MECA to get $40K grant for migration-themed exhibition
---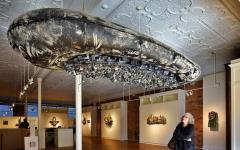 MECA to get $40K grant for migration-themed exhibition
Maine College of Art has been selected to receive a $40,000 Art Works grant from the National Endowment for the Arts to support the exhibition "Making Migration Visible: Traces, Tracks & Pathways."
The award was included in more than $80 million in grants announced May 9 by NEA Chairman Jane Chu as part of the organization's major funding announcement for fiscal year 2018.
"The variety and quality of these projects speaks to the wealth of creativity and diversity in our country," said Chu in a press release. "Through the work of organizations such as Maine College of Art in Portland, Maine, NEA funding invests in local communities, helping people celebrate the arts wherever they are."
Art Works is the NEA's largest funding category and supports projects that focus on the creation of art that meets the highest standards of excellence, public engagement with diverse and excellent art, lifelong learning in the arts, and/or the strengthening of communities through the arts.
MECA's planned exhibition, around the themes of migration, immigration and border crossing, will be on view this year at its Institute for Contemporary Art from Oct. 5-Dec. 14. It will be accompanied by film screenings, community dialogs, artist talks and exhibitions hosted by organizations throughout Maine.
Dinah Minot, executive director of Creative Portland, welcomed the NEA grant news.
"ICA at MECA has such cool exhibitions that are current and on point, and I'm thrilled that they have received this NEA grant," she wrote in an email to Mainebiz. "We are so fortunate to live in a region with sparkling creativity and cultural diversity in all genres of the arts, and Portland is particularly proud of the artistic talents of our diverse immigrant population, whose work is currently displayed around town." She specifically mentioned the "2018 Biennial: The Migration Experience" at the Portland Museum of Art, and the "(Almost) Black & White" juried exhibition at Creative Portland, located at 84 Free St.
Other NEA grant recipients
MECA was one of eight grant recipients in Maine announced by the NEA who will receive a combined $959,400.
The others are:
Maine Arts Commission, Augusta: $749,400 to o support arts programs, services, and activities associated with carrying out the agency's NEA-approved strategic plan.
Penobscot Theatre Co., Bangor: $20,000 to support the commission and production of a new play based on Bunny McBride's book "Molly Spotted Elk: A Penobscot in Paris."
Haystack Mountain School of Crafts, Deer Isle: $15,000 to support a ceramics and paper-making residency program in partnership with Combat Paper NJ, a veteran-run arts organization.
Maine Crafts Association, Gardiner: $20,000 to support the Craft Apprentice Program for contemporary craft practitioners.
Portland Ovations: $25,000 to support a series of multidisciplinary performing arts presentations.
Telling Room, Portland: $15,000 to support the Young Writers and Leaders Program
Waterville Regional Arts and Community Center (Waterville Creates!): $75,000 to support community engagement and design for historic Castonguay Square.