Maine Arts Commission hosts Folk Summit
---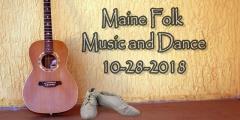 The Maine Arts Commission is proud to be partnering with 317 Main Community Music Center and Down East Friends of the Folk Arts to host a Maine Folk Music and Dance Summit.
When: Sunday, October 28, 2018 form 1:00 p.m. to 3:30 p.m. at 196 State Street in Augusta at the Maine Arts Commission office.
Goals of the summit are to have participants share opinions about the sector, contribute to a cohesive growth strategy for Maine Folk, strengthen their own networks, and enjoy the great folk arts leaders of Maine.
The summit will offer a facilitated discussion of Maine folk leaders followed by breakout conversations focused on specific topics.
The Maine Folk Alliance is composed of members of the Folk Arts community who believe that the traditional music of Maine can be enriched through stronger networks of those who teach, perform, and build events featuring folk music. Modeled on Folk Arts International and NERFA, the group has six areas of concentration to achieve its mission.
1. Education
2. Networking
3. Advocacy
4. Professional development
5. Field development
6. Consumer development
For more information contact Kerstin Gilg, Director of Grants Management at kerstin.gilg@maine.gov or 207-287-6719.
Filter Press Releases
Contact Information
Kerstin Gilg
193 State Street
SHS 25
Augusta
ME
04333
207-287-6719
vog.eniam@glig.nitsrek