Maine Arts + Culture Day | April 22, 2019
---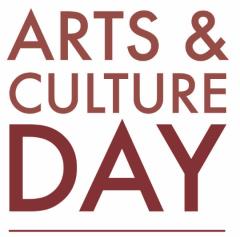 Celebrate Arts + Culture Day
April 22, 2019 - Maine State House Hall of Flags
AUGUSTA, MAINE--The Maine Arts Commission is excited to announce Arts + Culture Day at the Maine State House, April 22, 2019. The public is invited to the Maine State House Hall of Flags from 9 a.m. – 11:30 a.m. to celebrate Maine's cultural sector and to help increase awareness for the arts with Governor Janet Mills.
"We are extremely excited to connect the arts and culture sector of our state with policy makers in Augusta," said Julie Richard, Executive Director of the Maine Arts Commission. "It is so important that our elected officials hear the impactful stories of our artists, arts organizations and arts educators from them directly. The arts are such an important economic driver in our state and this work changes lives. We want this day to be a celebration of the sector."
Arts + Culture Day is presented in partnership with ArtsEngageME, the advocacy and support organization for the Maine Arts Commission. Arts + Culture Day will consist of two primary offerings; an area for arts organizations to provide informational tables and an area for presentations and performances. The morning opens with an assembly of artists and arts organizations gathering around informational tables. Food and beverages will be provided. Opening remarks and presentations will commence at 10 a.m. The program will include remarks from Governor Janet Mills, performances by the Pineland Fiddlers, musicians from the Bangor Symphony Orchestra, readings by Maine Poet Laureate Stuart Kestenbaum, plus more. Other speaker will include state legislators, policy makers, students and others.
Arts + Culture Day is an opportunity for the public to strengthen relationships between arts leaders and public officials and to discuss policy improvements to Maine's cultural landscape.
"We are happy to be partnering in this event," said Larry Rubinstein, Board President of ArtsEngageME. "Maine is an incredibly creative source of the arts in our nation with great additions in every area of creativity to the American scene. We look forward to presenting the arts to our state's policy leaders."
In addition to the day's festivities, staff members from New England Foundation for the Arts (NEFA) will be conducting a professional development workshop in the Maine State Library at 12:30 p.m. immediately following the Arts + Culture Day festivities. NEFA staff will present a live demo of its online directory CreativeGround, highlighting its value as a promotional tool, search/exploration engine, and tie-ins with NEFA's grants programs. Attendees are walked through the front and back end of the directory and given tips for ways to make their profile stand out. The CreativeGround workshop is free, but tickets are limited to 20 attendees. Register here for the CreativeGround workshop.
About the Performers:
Maine's own Poet Laureate Stuart Kestenbaum is the author of four collections of poems. He has written and spoken widely on craft making and creativity, and his poems and writing have appeared in numerous small press publications and magazines including Tikkun, the Sun, and the Beloit Poetry Journal. He is currently hosts Poems from Here on Maine Public Radio/Maine Public Classical.
The Pineland Fiddlers is a group of young musicians led by Ellen Gawler, as part of the Pineland Suzuki School in Manchester, Maine. Pineland Suzuki School is committed to musical excellence, integrity, and beauty in a joyful, noncompetitive atmosphere. Led by Betsy Kobayashi and Ellen Gawler, the Pineland Suzuki School serves young violinists, violists, and cellists in Central Maine.
The Bangor Symphony Orchestra was founded in 1896, making BSO one of the oldest continuously operating orchestras in the U.S. Today, the Symphony's 70 musicians present classical concerts and pops concerts; The Nutcracker with the Robinson Ballet; the annual Youth Concerts, BSO Maine High School Concerto Competition, and the Maurice P. King Master class. Since 1896, ten Music Directors have held the baton for the Bangor Symphony Orchestra — and many guest artists have brought their talents to Symphony performances.
Filter Press Releases
Contact Information
Ryan Leighton
193 State Street
SHS 25
Augusta
ME
04333
207-287-2726
vog.eniam@nothgiel.j.nayr