Maine Arts Monthly - July 15- 30, 2017
---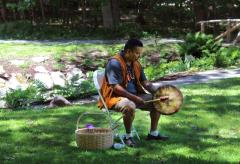 When it comes to Maine, we've got more arts and cultural events than any old timer can shake a stick at! As a new service to our constituents, the Maine Arts Commission will publish this curated monthly list of highlights based on the doings of our Partnership Grant Award recipients. We encourage you to get out to appreciate and to participate in the diverse arts offerings of our Maine communities. Enjoy!
7/13: Wabanaki Technology, 11:00 am - 12:00 pm
Join Abbe educators every Thursday in July to learn about Wabanaki technology and inventions.
7/16: The Art of Etching, 1:00 pm - 2:00 pm
Every Sunday in July, the Abbe Museum is offering workshops for guests to learn about the tradition of .
This is a great opportunity to flex some creative muscles and learn about Wabanaki history!
7/20: Silk Screen Printing Workshop with Born in the North, 11:00 am - 3:00 pm
Born in the North, two Mi'kmaq coming to the Abbe Museum to lead a creative workshop in print design.
Bring an article of colored clothing or purchase a bandana onsite for $2 to join in on the fun!
The Abbe Museum has a number of other awesome classes and events going on through July, so check out their full calendar here!
7/20-7/23: The Addams Family, A New Musical Comedy, 7:00 pm
Watch as The Dramatic Academy Summer 2017 performs this darkly funny tale featuring your favorite spooky bunch, the Addams family!
7/17-7/21: After Lorca: A Workshop in Reading and Writing Poems with Kathleen Ellis, 10:00 am – 1:00 pm
Participate in a week-long workshop examining Federico García Lorca's life, works, influences, and afterlives.
The workshop is open to poets and artists of all levels (get ready to create!) and will be led by Kathleen Ellis, an award-winning author.
7/21: Andrew Wyeth Centennial Celebration & Gala, 5:00 pm – 11:00 pm
Join the Farnsworth Art Museum for the Summer Gala, their largest fundraiser of the year!
7/25-7/27: An Artist's Workshop at the Olson House with John Whalley, 9:00 am – 12:00 pm
Maine artist John Whalley will be leading this 3-day workshop exploring the influences of the Olson house in Andrew Wyeth's work.
Whalley will also offer instruction in pencil drawing, and a demonstration of the egg tempera painting technique, both of which Wyeth used in his work there.
7/28-9/15: "Interiors" Exhibit
Opening reception: Friday, July 28 from 5:00 pm – 8:00 pm.
Artists include Alison Rector, Louise Bourne, Sarah Swajkos, David Estey, Jessica Ives, and Heath Paley.
The exhibition is focused on different representations of domestic space.
7/28-12/17: "Child's Play" Exhibit
The exhibition is focused on different representations of adolescence through 20-century photographs.
Artists include Aaron Siskind, Lewis Hine, Jocelyn Lee, Olive Pierce, and more.
Featured Partnership: Abbe Museum
To inspire, to educate, to amaze. Up in Bar Harbor, ME, the Abbe Museum works hard at its mission to encourage new learning about Wabanaki art, history, and culture. Their goal is beyond important: The Wabanaki make up the majority of the 10,000 Native people living in the state, so understanding their culture means understanding Maine history.
And the best part is that all the information and stories come from the Wabanaki people themselves. The Abbe Museum constantly collaborates with Wabanaki musicians, artists, and craftsmen to ensure complete authenticity in their presentation of information.
The Abbe Museum has an awesome schedule lined up for July. Classes include everything from Wabanaki technology to basket weaving, and the museum has also arranged for a number of storytelling and musical performances throughout the month.
Now's the perfect time to explore Bar Harbor and the Abbe Museum, so what are you waiting for? Check out their full calendar here!