Maine Craft Apprentice Program: 2018 Apprenticeships Announced
---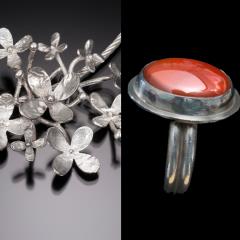 Maine Craft Apprentice Program: 2018 Apprenticeships Announced - Submitted by Sadie Bliss, Executive Director of the Maine Crafts Association
The Maine Crafts Association, in partnership with the Maine Arts Commission, offers a statewide Craft Apprentice Program (CAP) for contemporary craft practitioners. The program is a concentrated peer-to-peer learning experience for apprentices who demonstrate a commitment to further their abilities as specialized craft practitioners. They accomplish this through a significant relationship with a master artist. The program serves to celebrate the role of the master/apprentice relationship as a way to generate creative entrepreneurship through the cultural sector. It addresses the need for developing sustainability and resiliency in the craft sector by allowing craft artists to acquire new skills, tools and management habits that help them adapt to the changing environment of craft consumers.
The number and quality of CAP applicants exceeded our expectations, leaving a difficult task to the 2018 CAP jurors Margaret M. Aiken: Linde Family Foundation Coordinator of School and Teacher Programs, Colby College Art Museum; Linda Perrin: CAP 2016 Master Artist, Artist/Owner, Atlantic Art Glass, & Island Artisans and Founder/Executive Director, Artsworth
And Carolyn S. Wollen; Trustee, Betterment Fund and Advisor, Maine Fiber Arts.
MCA and MAC are pleased to announce the 2018 Apprenticeship recipients:
Master jeweler Christine Peters with apprentice Nina Devenney and;
Master fiber artist Nancy Giesberger with apprentice Nina Ruit.
CAP uses a two-step jury system: three jurors, connected and dedicated to craft in Maine, score written applications on their own merit and final selections are made by the three jurors after interviewing finalists. CAP accepts a wide variety of media with no preference given to any particular media. This year, program funding allowed for two pairs and the final outcome led to apprenticeships in jewelry and fiber. We are proud and dedicated to the selection process, and thrilled with the experience and quality of the 2018 selections.
Craft Apprentice Program Objectives
Providing makers with relevant and alternative educational experiences
Promoting and facilitating craft as a viable career path
Fostering deliberate mentoring
Facilitating professional development of emerging makers
Increasing pool of craft makers in the state
Providing makers with alternative means of professional funding
Develop and promote peer learning in the Maine craft community
Program Summary
The Maine Craft Apprentice Program (CAP) lasts for seven months, March through September. Master and apprentice work together, transferring knowledge and skill from the Master to the Apprentice (and often times vice versa) over 100 hours of one-to-one time in the studio.
Eligibility
Eligibility requires participants to be at least eighteen years of age, current Maine residents, and apprentices must demonstrate foundational skills in the medium they wish to pursue.
Honorarium
Both receive honorariums based on a recommended one hundred hours of one-on-one training ($3000 to the master, $1000 to the apprentice). The honorarium for the master artist covers their time and transference of knowledge/expertise, while the apprentice's funds are for supplies/equipment. The apprentice also receives a complementary Emerging Professional Membership from the Maine Crafts Association.
Apprenticeship
A majority of the training happens at the master's studio. Occasionally master and apprentice visit other studios or events relevant to their goals. Although the program provides a distinct structure for implementation, CAP also allows for adaptations as the pair sees fit to maximize the experience for each. CAP requires that the pair submit interim and final reports.
The Exhibition
To close the program, all artists participate in an exhibition at LA Arts in Lewiston as part of Maine Craft Weekend (held during the American Craft Week, a national celebration of craft). The show, Sponsored by Maine Magazine, highlights examples of individual's work and new work generated during the program.
Alumni Network
CAP was founded in 2016 with three master/apprentice pairs participating in the seven month apprenticeship. To promote sustainability, the MCA/MAC invite current participants and alumni to convene annually to discuss outcomes of CAP, as well as to develop networking and foster further mentoring. CAP 2016 Alumni: Doug Wilson and James Crawford (blacksmithing); Anne Emlein and Rose Allard (textiles); Linda Perrin and Jacquelyn Jenson (glass). CAP 2017 Alumni: Ben Coombs and Cara Taggersell (glass); Charlie Jenkins & Terrill Waldman and Carel Shonerd (glass).
Funding
Each year MCA and MAC are excited about the artistic strength, innovation and motivation of the applicants, and wish more apprenticeships could be funded this year. The program seeks individual and foundation funding to continue the program each year. Please contact Sadie Bliss to make a contribution or become a program sponsor: sbliss@mainecrafts.org.