Maine Media Workshops Upcoming 4-Week Film School
---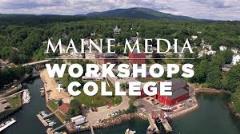 Immerse yourself in this month-long, hands-on course covering all aspects of film and video production.
| | |
| --- | --- |
| The demand for individuals with the skills and knowledge required for film and video continues to grow. This hands-on workshop is for new filmmakers, film students, graduates and those who have yet to make their first film or work professionally in the field. | |
| | |
| --- | --- |
| Each student will gain experience working in a variety of roles including writer, director, producer, director of photography, camera assistant, gaffer, sound mixer, and editor, and each produce a short documentary or narrative piece. | |
"I want to make documentary films on inner city life...I was able to come up here on vacation time.... the 4-Week Film School offered a time frame that fit my job and a partial scholarship made it possible."
- Ricky Rivera, Springfield MA
| | |
| --- | --- |
| Learn script development, shot design, lighting, camera operation, scene coverage, set-etiquette, and how to work with actors. The overall emphasis of the class is cinematic visual storytelling and working with a crew to achieve a common goal. | |
Learn the full process of filmmaking. Gain valuable production experience, build your network, and leave with the skills and knowledge to start working in the field!
Interested in a more comprehensive filmmaking program?
Check out the Certificate in Collaborative Filmmaking
here.
The 4-Week Film School will run from March 25 - April 21 2018
Filter Press Releases
Contact Information
Maine Media Workshops
PO Box 200
70 Camden Street
Rockport
ME
04856
ude.aidemeniam@retsamtsil