Maine Potters Market Features New Work by Cathy Hammond
---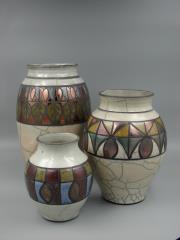 For the month of June, Maine Potters Market highlights a new collection of raku work by Cathy Hammond. Every spring after the long Maine winter, Cathy watches expectantly for warmer, clearing weather so she can get out her raku kiln and start firing outdoors. She likes making lighthouse lights as they remind her of our iconic coastline, but also of her childhood (needing a nightlight to feel safe). The "stained glass" type design work on her vases first started as large, graphic sectioning of the forms surface, applying contrasting colors in the different spaces. Over the past few years the designs have gotten much more elaborate, relying on intuition to come up with the designs. She surrounds the colored designs with large areas of white crackle glaze in part to allow the eye to rest, but also to add some quiet elegance to what could otherwise become busy.
Cathy has tried many different pit firing methods, but the one that has given the best results is to wrap her bisque pieces in fresh leaves and wet cloth that has been soaked in copper solution. The copper is absorbed into the clay, with the leaves as resist. This process results in wide variations of color, and beautiful smoky "ghost" images of the plant material used. The firing takes 5-6 hours, starting with lots of flame, and ending with a gentle smolder. When all the burning material has turned to ash, the pots emerge. Each firing is a unique surprise.,
ABOUT CATHY HAMMOND – Cathy has been making pottery in Maine since 1987. Formerly named Pasture's Edge Studio, and now called Brave Heart Clay Works. This name has personal significance for Cathy, who hopes we can all understand the need to be brave in our lives, in the face of hardships when they come, but also to bravely carry our beliefs with us, and to be brave enough to conquer new challenges and follow where our hearts lead.
ABOUT MAINE POTTERS MARKET – Founded in 1978 by a group of potters who envisioned a cooperative market where they could sell their wares to the public and share their knowledge of pottery with customers, Maine Potters Market currently consists of thirteen Maine potters working in eleven studios throughout the state. The rich variety of handmade work available for sale keeps Maine Potters Market customers returning. Hours: 10 - 6 daily.