NEA Announces American Rescue Plan Grants to Local Arts Agencies
---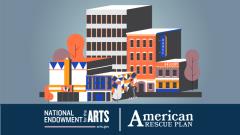 NEA Announces American Rescue Plan Grants to Local Arts Agencies
Maine's SPACE Gallery awarded $250,000 in Funding Will Support the Recovery of the Arts and Culture Sector
Washington, DC—The National Endowment for the Arts (NEA) today announced American Rescue Plan (ARP) grants totaling $20,200,000 to 66 local arts agencies for subgranting to help the arts and cultural sector recover from the pandemic. The agencies will use this funding to distribute grants in their communities to eligible recipients to save jobs and to fund operations and facilities, health and safety supplies, and marketing and promotional efforts to encourage attendance and participation. The full list of grantees, sorted by city/state, is available on arts.gov.
Local arts agencies play a central role in increasing public access to the arts, supporting artists and arts organizations, and enhancing the quality of life in their communities. Recipient agencies are geographically diverse and range from the Arts Foundation of Tucson and Southern Arizona and the Arts Council of Wilson in North Carolina, to the Regional Arts & Culture Council in Portland, Oregon, and Ohio's Arts Commission of Greater Toledo. This funding will help local arts agencies to support arts and cultural organizations in both urban and rural areas. Grant awards are for $150,000, $250,000, or $500,000, and do not require cost share/matching funds.
"The NEA's significant investment in local arts agencies is a key element in helping the arts and culture sector recover and reopen, while ensuring that that American Rescue Plan funding is distributed equitably," said Ann Eilers, NEA's acting chair. "These grants recognize the vital role of local arts agencies and will allow them to help rebuild local economies and contribute to the well-being of our communities."
This is the second of three installments of the NEA's American Rescue Plan funding. Last April, the NEA announced that 40 percent of its $135 million in ARP funding would be allocated to 62 state, jurisdictional, and regional arts organizations for regranting through their respective programs. The third installment of ARP funding to arts organizations to support their own operations will be announced in early 2022.
As with other NEA grantmaking programs, the eligible applications for the American Rescue Plan Local Arts Agencies Subgranting opportunity were reviewed by advisory panels. Each panel comprised a diverse group of arts experts and other individuals with broad knowledge in the areas under review. The panels' findings were forwarded to the National Council on the Arts, which then reviewed the applications and submitted recommendations to the chair of the National Endowment for the Arts for review and a final decision.
The NEA recognizes that the financial needs of the arts and culture field far outweigh the available funds that will be awarded through these programs and encourages eligible organizations to explore the agency's other grant opportunities which can be found on arts.gov.