National Endowment for the Arts Announces 2018 National Heritage Fellows
---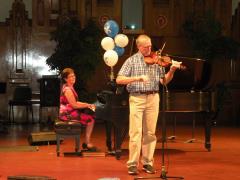 National Endowment for the Arts Announces 2018 National Heritage Fellows
Master Folk and Traditional Artists Celebrated at Free Events in September
The National Endowment for the Arts announced on June 26, 2018 the newest recipients of the NEA National Heritage Fellowships, who range from an old-time fiddler to a Day of the Dead altar maker to an R&B musician. The 2018 recipients will receive a $25,000 award and be honored in Washington, DC at an awards ceremony on September 26, 2018 and at a free concert on September 28, 2018. The concert will be streamed live at arts.gov.
"We are excited and pleased that Don and Cindy Roy have been recognized for their work in the fiddling community by the National Endowment for the Arts," said Maine Arts Commission Executive Director Julie Richard. "The National Heritage Fellowship is a great honor and they are most deserving."
Don Roy is a champion fiddler with depth in many styles. His uniquely Maine sound has roots in New England, Quebec, and the Canadian Maritimes. Don has been a pivotal member of many successful groups including the Maine French Fiddlers and Fiddle-icious, and currently performs internationally with the Don Roy Ensemble. Don also crafts violins, violas, cellos and basses for musicians influenced by the methods of the Italian master luthiers. Cindy, a former member of the Maine French Fiddlers, is well known for her step dancing piano accompaniment which is among the best in New England. Cindy grew up immersed in the melodies and rhythms of Franco-American music; her grandparents came to Maine from Prince Edward Island. Although she – like Don – began to play music on the guitar, she quickly turned to piano. Her accompaniment is fluid and rhythmic and provides a perfect foil to Don's virtuosic fiddling.
The NEA National Heritage Fellowships, awarded annually by the National Endowment for the Arts, highlight the breadth and excellence of the artistic traditions found in communities all across the United States. The National Heritage Fellowship is the nation's highest honor in the folk and traditional arts. It recognizes their artistic excellence and the value of their contribution to our nation's traditional arts heritage. Make sure you catch one of their Maine performances this summer. Details at https://donroyonline.com/performances/
Filter Press Releases
Contact Information
Ryan Leighton
193 State Street
SHS 25
Augusta
ME
04333
207-287-2726
vog.eniam@nothgiel.j.nayr