New Study Shares Insights on What Impacts Audience Diversity, Equity, and Inclusion
---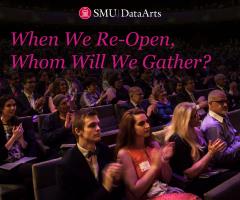 New Study Shares Insights on What Impacts Audience Diversity, Equity, and Inclusion
As performing arts organizations in the United States emerge from pandemic closures, SMU DataArts has released a new study to help these institutions address the question "When we re-open, whom will we gather?" and to take advantage of this time of reconnection to increase audience diversity.
The study, "The Intersection of Funding, Marketing, and Audience Diversity, Equity, and Inclusion," examines pre-pandemic audience diversity, equity, and inclusion (DEI) along the dimensions of race and income at 24 large performing arts organizations in the United States to provide a baseline of past trends and a roadmap for the future. The new research is part of a series of recent publications by SMU DataArts that are designed to help arts and cultural organizations contend with the crisis of systemic racism.
Key Findings
Over the course of a seven-year period from 2011 to 2017, highlights from the report include:
We found that BIPOC community members made up 44% of the population where the performing arts organizations in the study were located, but only 17% of audiences.

Households earning less than $50K per year made up 42% of the local population, but only 14% of audiences. Racial representativeness—the extent to which the racial characteristics of the served customer base reflect equitable participation—improved modestly over time, while income representativeness decreased.

The negative impact of corporate support intensified over the period studied, with high levels of corporate support ultimately being associated with lower levels of audience DEI.

The size of the subscriber base has significant, negative effects on both dimensions of audience DEI.
How Can Audience DEI be Improved?
The report offers a number of ideas for improving audience DEI based on the study's findings, including:
Set specific goals for audience diversity and measure progress toward achieving them.

While many performing arts organizations have DEI statements on their websites, none of the organizations in this study had set explicit goals for audience diversity.
Engage those who live in nearby, diverse neighborhoods.

The arts are radically local; people more than a mile away from an organization are less likely to attend, especially if they are in BIPOC or lower-income households.
Grantmakers and donors that seek to increase diversity in the arts can examine whether their philanthropic support has resulted in the desired impact, and if there are opportunities to enhance audience DEI by providing more equitable support to organizations whose core mission is to serve BIPOC and lower-income communities, alongside continued investment in large performing arts organizations that have concrete commitments to measurably improve DEI.
Filter Press Releases
Contact Information
Liz Quinn
461 N 3rd Street,
Philadelphia
PA
19123
2153830715
ude.ums@straatad