Obituary - Jason Anderson, Visual and Performing Arts Specialist
---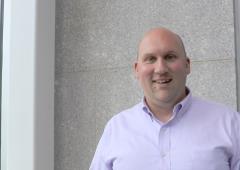 We lost a stellar Maine arts education leader last week after a brief illness. Jason Anderson, 41, had been the Visual and Performing Arts Specialist for the ME Department of Education and served the field of Maine arts educators at a critical time.
Jason came to his MDOE post in the summer of 2019, direct from teaching music at Houlton High School. He became a trusted anchor for many visual and performing arts teachers throughout COVID, especially during those chaotic first months. Still new at his post, he immediately set up group sessions for teachers of all art disciplines to learn from each other right away and share resources. He held individual office hours and organized a number of book groups. These were lifelines for teachers isolated from their colleagues, their students, even from being able to teach their subjects. In his short tenure, he also successfully shepherded the much-needed revision of the Visual and Performing Arts Standards of the Maine Learning Results.
We enjoyed his upbeat, can-do attitude, and had a standing monthly meeting that led to a number of promising collaborations between our agency and the Department of Education. Generous with his time, knowledge and resources, he was eager to work together whenever he could to serve the field.
Martha Piscuskas, MAC Program Director, adds this personal remembrance:
"Jason and I started our arts ed leadership positions for the State of Maine at the same time, September of 2019. He was the VPA Specialist at MDOE, I was the Arts Education Director for the Maine Arts Commission. He had just left teaching high school music, I had just left running a community arts center. We bonded over being newbies to state government and to the statewide arts education field of acronyms – MAAE isn't MAEA? -- and began a practice that continued until his death of meeting every few weeks even when both our positions changed. We learned from and schemed with each other: the mundane, but important!, details – how do vendor code forms work at your office? – as well as strategies for supporting arts educators better together. At the height of COVID, we co-created a pilot grant program for teaching artists to hold virtual school arts residencies and studio visits. We presented at schools and conferences together, shared ideas, and served on each other's committees. There were also poignant reminders; as he was fighting cancer, he wanted to hear about my travels, and reminded me to keep enjoying life as much as possible. I took that to heart. I will miss this lovely, thoughtful, kind and eager champion of arts education, and my friend."
To learn more about Jason's life and career, here is a link to his obituary.
Filter Press Releases
Contact Information
Martha Piscuskas
193 State Street
SHS 25
Augusta
ME
04333
207-287-2750
vog.eniam@saksucsip.ahtram