Percent For Art Call to Artists: Oxford County Courthouse
---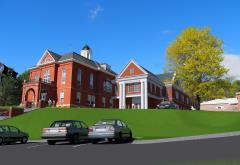 PERCENT FOR ART COMPETITION:
Oxford County Courthouse, South Paris, Maine
OVERVIEW:
The Maine Arts Commission is making a call to all Maine artists (who pay state taxes in Maine) to submit proposals to design, create and install artwork at the Oxford County Courthouse in South Paris, Maine. The total project budget is approximately $35,730 and the submission deadline is Friday, June 28, 2019, 5:00 p.m.
The Percent for Art law in Maine reserves one percent of the construction funds for all state-funded building projects to provide artwork for the public areas of these buildings and /or their exterior renovations and additions.
BACKGROUND:
Founded in 1805, Oxford County is known for its scenic hills and lakes as well as its history of business and industry.
The Oxford County Courthouse was originally set in the idyllic New England village of Paris Hill in Norway, Maine. Following a boom in commerce resulting from the arrival of the railroad, the court system soon outgrew the site on Paris Hill. In 1895, it was relocated to South Paris, Maine, the historic home of Hannibal Hamlin, the 15 Vice President of the United States of America. Since then, the court building stands remarkably unchanged after 123 years of use. The courthouse features a large mural of Justinian delivering the code of justice, painted by Harry Cochrane in 1895 as well as original wood paneling and regal architectural details.
Given the adversarial nature of the events that transpire within a courthouse, it is important to assure all who enter that their disputes will be thoughtfully and fairly considered. A courthouse must reflect both the serious nature of the events that transpire within it, and the grandeur of the law. For that reason, the art found within a courthouse must not be humorous, whimsical, religious in nature, or reflect any bias or prejudice. Rather, it should suggest opportunities for quiet and positive thought. Artwork may pay homage to the unique geography and history of Oxford County while fostering a sense of community and tranquility.
Listed below are all the possible locations for artwork. Artists may address any or all of these areas in their proposals. Note: Installation deadline is Summer 2020.
Potential public art areas include:
Location #1: Interior Lobby B (South Wall) 18' x 4.5'
Location #2: Interior Lobby D (North Wall Opposite of Elevator) 13' x 8'
Location #3: Interior Lobby D (South Wall) 16' x 11.25'
Images and dimensions of these locations are provided in the Grant Management System (GMS). See "How to Submit materials" in this prospectus for details on logging in to the GMS.
If you have questions about the locations and architectural elements or would like to visit the campus with a committee representative, please contact Jeff Henthorn, Director of Court Facilities via e-mail at jeff.henthorn@courts.maine.gov.
All other questions should be directed to Diamond Duryea, Percent for Art Associate at the Maine Arts Commission through e-mail at dia8788@hotmail.com, or via the phone at (207) 239-1069
PROJECT BUDGET
There are approximately $35,730 in Percent for Art funds available for artwork for this project. These funds will be used to commission work(s) from a single artist, more than one artist or an artist team. An artist budget proposal must cover all design, fabrication, transportation, documentation, and installation expenses.
SELECTION PROCESS
A Percent for Art selection committee of five members will jury submissions for the project. The committee will review the materials to determine whom to invite for a second round of evaluation. Artists selected for the second round will receive a $500 design fee for refining their proposals. Final proposals will include detailed models, drawings, renderings, samples of work and/or materials depending on the nature of the proposal. All finalists will present their final proposals to the committee in person. Please do not submit detailed models, drawings, samples, or final proposals for the first round of the selection process.
All submitted materials will not be returned.
SELECTION CRITERIA:
Applications are reviewed based on the following criteria:
Artistic strength as shown through vision, originality, and understanding of craft (30 points).
Ability to translate artistic concepts into work that will activate or enhance the proposed space (25 points).
Application is comprehensive in information and ideas are well communicated (20 points).
Ability to design work that is sensitive to social, environmental, historical, and/or other relevant contexts (15 points).
Capacity to complete the proposal on time and within budget (10 points).
WHO IS ELIGIBLE
All professional artists who are Maine residents (pay state taxes in Maine) may apply for consideration to this project. Artists who are employees of the Oxford County Courthouse are ineligible for Percent for Art projects at the location where they are employed, as are members of the selection committee and their immediate families. Students at any level are ineligible. The project is open to all artists age 18 and over, regardless of race, color, religion, national origin, gender, age, military status, sexual orientation, marital status, or physical disabilities. Artist teams are eligible to apply, including teams of artists from multiple disciplines
DEADLINE
Friday, June 28, 2019, 5:00 p.m. is the deadline for submission of materials. Materials received after this date may be excluded from consideration.
MATERIALS REQUIRED IN SUBMISSION
Materials must be submitted online through the Maine Arts Commission's Grant Management System (GMS). See "How to Submit Materials" below for details.
All documents must be in a PDF format. All images must be in a jpg or PDF format. Any submissions that do not follow the requirements may be considered ineligible. Make sure submissions are labeled correctly, that you identify the Percent for Art call you
are applying to, and that your name, phone number, mailing address and email information is on every document.
Your proposal must include:
A current concise resume for participating artist(s) (2 pages maximum).
A brief one-page written proposal describing your past work and how you plan to address the potential art area(s). Discuss what your concept and approach will be in addressing the public art space(s) of the site. If it is exterior, include a brief sentence on how the work will withstand the changing seasons including snow accumulation. Please do not submit detailed models, samples, or final proposals for this round of the selection process. A simple sketch (1 per installation area) may be included to clarify your idea if necessary.
An itemized budget estimate to give cost expectations (include design fees as well as anticipated fabrication, transportation and installation costs). A more precise budget may be requested for those invited past the first round.
A brief anticipated maintenance plan required for the artwork. Please do not include this in the narrative of your proposal.
Five digital images of recent work. If an artist team or artist organization applies, they may only submit five images for all artists. The optional proposal sketch does not count as an image. (Please include any sketches with the narrative portion of the proposal.) Do not upload A/V files of any kind. Only jpg or PDF files are eligible for review.
HOW TO SUBMIT MATERIAL
NOTE: Some Internet Explorer users have experienced problems during the application process. Because of this, we recommend that you use the Firefox, Safari or Chrome web browser to access the GMS and submit your application.
Step #1: If you already have an account with the Maine Arts Commission website then click here to sign into the Maine Arts Commission's Grant Management System (GMS). Then skip to Step #2.
If you DO NOT have an account with the MAC click here to go to the Login page of the MAC website. CLICK "New User?" in the lower right hand corner of the box. Fill out the Create An Account Step 1 & 2 pages as directed and CLICK "Submit" at the bottom. When you reach the "Account Created Successfully" page go up to the top headers in gray on the page and CLICK "Grants". In the far left column under "IN THIS SECTION" CLICK "Log into GMS" at the bottom. Sign in with your new user name and password. Now proceed with Step #2.
Step #2: Select a Percent for Art Project listed in the "Active Grants" pages of the GMS. Then CLICK "read more" under the opportunity posting.
Step #3: Read the "Reference Materials" information for full details on the project.
Step #4: If you are ready to start you application submission CLICK "Apply Now" at the bottom of the "Reference Materials" page.
Step #5: Fill out the GMS "Contact Information". When filling out the contact information, select the following:
For Application Institution, select "Individual"
For Application Statistic, select "Individual Artist" (regardless of number of artists participating in proposal)
At the bottom of the page CLICK "Save & Next".
STEP #6: For the "Support Material" section, please upload the materials required listed above. Do not upload A/V files. Follow the "Manage Images and Documents" instructions on this page for actual uploading. Files can only be uploaded one at a time. Please be sure to fill out the file description box for each. When you have uploaded all your required materials click "Next Step".
STEP #7: In the "Checklist & Status" page, you may just click "Submit" if you want to come back and change any information before the deadline,
OR
if you are finished with your application, you may check the "I have completed all required steps for this application" box and then CLICK "Submit". At this point your submission is complete and you will not be able to make any changes to this application.