Portland Conservatory of Music Kicks of Noonday Concert Series
---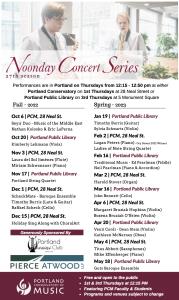 FOR IMMEDIATE RELEASE
Portland Conservatory of Music Announces 2022-23 Free Noonday Series
Free Noonday concerts continue at PCM and at the Portland Public Library, featuring faculty
and students of the Portland Conservatory of Music.
(September 29th, 2022 - Portland, ME.) The Portland Conservatory of Music is thrilled to
announce the 2022-23 schedule of free Noonday Concerts. The free Noonday Concert Series
has been an integral part of the PCM mission to provide equal access to quality music
education and performance since 1995 by presenting concerts for the public at no charge
featuring the talented faculty at PCM. The series runs from October of 2022 through May of
2023 and features a wide variety of music including classical, contemporary, jazz, folk,
traditional, and more.
The 27th season of the Noonday Concert Series kicks off with the Seyir Duo at 28 Neal
Street on Thursday, October 6th. The Seyir Duo is a middle eastern music ensemble featuring
Eric LaPerna and Nathan Kolosko.
PCM is thrilled to be collaborating with the Portland Public Library for the first time since
the pandemic to host part of this concert series at their Downtown Branch in Monument Square
so that more people can access these life-enriching experiences.
For more information go to:
www.portlandconservatoryofmusic.org/noonday-concert-series
About Portland Conservatory of Music
Portland Conservatory of Music is Portland, Maine's premier community music education
center located in the heart of Portland's historic West End. A nonprofit 501(c)(3) community
music school, the mission of Portland Conservatory of Music is to provide access to quality
music education and performance for community members of all ages, abilities, and financial
levels.
Portland Conservatory of Music offers a wide-range of music educational programs
ranging from private lessons and choirs to jazz ensembles and early childhood music. Its faculty
of 50 musicians and instructors have credentials that include advanced degrees, national and
international performance, and instruction at premier Maine colleges and universities. Portland
Conservatory of Music is located at 28 Neal Street in Portland's West End neighborhood.
###
Dean Stein (Violin) and Kathleen McNerney (Oboe)
Robert Gans (Piano & Vocals)
Eric LaPerna (Percussion) and Nathan Kolosko (Oud)