Richard Boyd Art Gallery SERENITY - 2019
---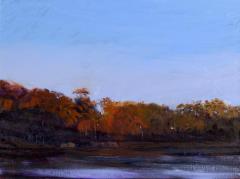 Richard Boyd Art Gallery November 2019 Exhibit News
(Portland, ME) With so much happening this coming November from celebrations, family gatherings, local elections, and our ever growing to do lists for the holidays it's easy to become overwhelmed.
So take a break, stop in Richard Boyd Art Gallery and relax while viewing over twenty paintings by gallery artists' Patricia Chandler – oil, and cold wax medium; Carrin Culotta – oil; Kevin Daley – oil; Randy Eckard – watercolor; Jane Herbert – acrylic; Roy Perkinson – oil, and pastel; Jen Pagnini – oil; and Susan Tan - watercolor.
Serenity – 2019 is open free of charge every Friday, Saturday, and Sunday between the hours of 10:00 a.m. and 3:00 p.m. from November 1 through November 30, 2019. Additional days and times by chance or scheduled by appointment.
For more information about the exhibit contact the gallery by phone at (207)-712-1097, via email info@richardboydartgallery.com or visit the gallery's website at www.richardboydartgallery.com . All works are available for purchase at the gallery.
To view images of works included in the current monthly exhibit click on https://richardboydpottery.com/current-exhibit/ . Follow us on Instagram #richardboydartgallery9327 and like us on Facebook at www.facebook.com/RichardBoydArtGallery .