Sheepscot Valley Chorus Welcomes New Singers
---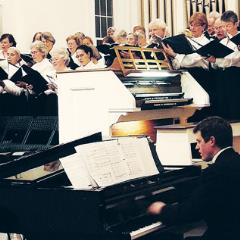 The Sheepscot Valley Chorus begins their 34th season
when rehearsals commence
Tuesday, September 9, 7:00-9:00
at the Wiscasset Congregational Church on Route 1.
With a long history of community music making, the Chorus welcomes and encourages new singers to join us. Singers wishing to participate should come to the first rehearsal, voice at the ready.
Our major works this fall are the beautiful and lively Magnificats (Song of Mary) of baroque composer Francesco Durante and classical composer Franz Schubert. The Durante has been attributed erroneously to Pergolesi (who was Durante's student), so music lovers may be familiar with the work under Pergolesi's name. Singers will enjoy working on these works together, as the differences between the baroque and classical settings are quite striking, with much variety. Both pieces will be accompanied by a professional orchestra and feature professional soloists. The second half of the program will include a mixture of classical works and lighter holiday fare.
Sheepscot Valley Chorus is directed by Linda Blanchard and accompanied by Sean Fleming, both of Damariscotta. The Chorus will perform their concert Sunday, December 7 at 3:00 p.m., as part of the Harbor Lights Festival in Boothbay Harbor. Please join us!