Showcase & Sell Your Work on the Shores of Moosehead Lake
---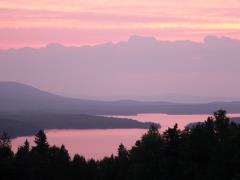 The Moosehead Lake Region Economic Development Corporation is excited to announce a pilot project this summer to establish an Artisan Village in Greenville at the Moosehead Lake waterfrontin the center of town.
We will have two cottages available for artists to display and market their work to the thousands of visitors who come from all around the world to enjoy the pristine beauty and unspoiled wilderness of the Moosehead Lake Region in the summer months. In 2018 we plan to expand the Village to accommodate four cottages.
The cottages may be leased for one to four weeks, at an affordable rate of $75/week. Artists will be able to secure the cottages at night so that they will not need to pack and unpack their work each day. For artists coming from a distance, we will provide information on local accommodations.
For further details about this year's pilot program and for the application form, contact the Artisan Village Coordinator at 207-280-0855 or by email at mooseheadartisancottages@gmail.com.
Join us in enhancing the arts in the Moosehead Lake Region!