Springfield Art Museum Seeks Entries For Watercolor USA 2023
---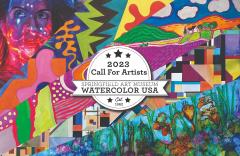 Springfield, MO. (January 3, 2023) – The Springfield Art Museum is pleased to announce a call for entries for Watercolor USA 2023, highlighting the very best in contemporary American watermedia. This year's exhibit will run from June 10 through September 3, 2023. The deadline to apply is midnight on February 22, 2023.
Organized in 1962, this year marks the 62nd year of Watercolor USA. The nationally known exhibition is open to artists from all 50 states and U.S. territories, and seeks to discover what is new and what is next in the world of American watermedia. This year's exhibit will be judged by prolific watercolorist Keiko Tanabe, AWS, NWS, AIS, LPAPA.

Approximately $20,000 in cash prizes, artist materials, and possible Museum purchase awards are available. Top awards include the $3,000 Kenneth M. Shuck Memorial Award, the $2,000 Greg G. Thielen Memorial Award, the $1,500 Bill Armstrong Memorial Award, and the $1,000 Robert E. Goodier Memorial Award For Traditional Transparent Watercolor, among others. Additional cash awards are generously provided by the Watercolor USA Honor Society.

Artists from all 50 states and U.S. territories, ages 18 and up, who are using watermedia as a critical component of their work are eligible to apply. Artists whose work pushes the boundaries of traditional watermedia are encouraged to enter. High realism, abstraction, traditional transparent watercolor, and innovative uses of the medium are all welcomed as the exhibit continues to expand and adjust with contemporary artistic practice, including the use of nontraditional supports and mounts.

The Museum routinely purchases work from the Watercolor USA exhibition to expand its robust collection of contemporary American watermedia. Works can be pulled from the Museum's watermedia holdings to mount focus exhibitions or rotate into Creating an American Identity, the Museum's permanent collection exhibition. Watercolor USA is visited by over 15,000 patrons every year and the Museum produces a full color catalog, a complete record of the exhibit for purchase by patrons.
For full information on entry rules, entry fees, and how to submit artwork, please visit our website at:
www.sgfmuseum.org/246/Watercolor-USA. The Springfield Art Museum is located at 1111 East Brookside Drive. Admission is always free. Donations are gratefully accepted.
Filter Press Releases
Contact Information
Joshua Best
Museum Affairs Officer
Springfield
MO
02023
417-874-2859
vog.omdleifgnirps@tsebj