TAKE 5 -Get To Know: Michael Miclon
---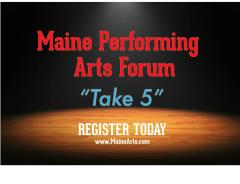 "TAKE 5" - Maine Performing Arts Forum
This spotlight series features the panelists for the Maine Performing Arts Forum on September 18 in Brunswick. Each speaker has provided a mini-biography along with 5 answers so we can get to know them better prior to the event. This diverse group producers and presenters—in theater, music, and dance, from orginzations from throughout the state—are known for their success and leadership within Maine's performing arts sector. For "Take 5" each speaker has provided a mini-biography along with 5 answers to "get to know" the panelists better. Check back here for new Take 5's every day leading up to the Performing Arts Forum. Learn more about the forum and
Michael Miclon is the Executive/Artistic Director of Johnson Hall in Gardiner where he produces nearly fifty performances and films annually as well as waterfront concerts and Johnson Hall's artist in the schools program. Michael is also leading the charge on the renovation of the second and third floors of the historic Johnson Hall Opera House, due to reopen in September of 2019.
As an entertainer, Michael has built an international reputation that has brought him to some of the finest theaters and special events across the United States and Europe. As a film-maker, Michael has created videos and short films in ten countries on four continents for corporate and humanitarian groups since 2000.
Take Five Answers:
What did you want to be when you were growing up?
Being the youngest of five kids I was destined to be a comedian. I knew from the age of 14 on that I wanted to be a stage performer. Brief periods of my youth I wanted to be a chef and a veterinarian.
What single event/choice has impacted you career the most?
Choosing to join the Buckfield High School Drama club in 1982 with Denise Reehl. I found my path.
What advice would you give yourself when you started at your current position?
Study more about how a board should function and your role as it's leader. An established organization's old habits die hard and sometimes you need to help euthanize them quickly!
What do you like to do outside of work?
In my younger days as a starving artist I got a job as a carpenter laborer and within two years I was able to build my own home (at age 19) I love to build things. I also love to travel with my wife. I have worked in 26 countries but I have only been to 2 with my wife, so I have a lot of making up to do.
What is your favorite thing about living in Maine?
No matter where I go in the world, I am always glad to come home to Maine. Hearty people, gorgeous scenery, amazing arts communities all over the state.
The Maine Performing Arts Forum is being hosted by the Maine Arts Commission on September 18 in Brunswick at the newly renovated Frontier Café in Brunswick. The full-day event includes a morning session for performing arts producers and an afternoon meeting for those who present the work of touring artists. Learn more and register for the Maine Performing Arts Forum