THE MICROSCOPIC WORLD OF THE MAINE COAST - combining Art and Marine Field Science
---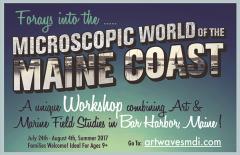 A TWO WEEK SUMMER WORKSHOP: July24th-August 4th, Summer 2017 in Scenic Bar Harbor Maine!
We are happy to announce the launching of this unique two week intensive merges marine field science and art located in Bar Harbor, Maine on Mt. Desert Island. The workshop is designed for all ages and ideal for anyone nine years old through adults perfect for an entire family! The Workshop will be co-taught by International Environmental Artist Mara G. Haseltine and Molecular Biologist and Sailboat Captain Bradford Haskell. This workshop is a partnership between ArtWaves of Bar Harbor Maine, MDI Biological Laboratory on Mt Desert Island and The Ocean Foundation.
This workshop is open to anyone above nine years old to adults and perfect for entire families to enjoy the Maine Coastline and learning together. Bar Island will act as field study ecosystem and is conveniently located within walking distance from ArtWaves in Downtown Bar Harbor, Maine, where most of the classes will take place. Bar Harbor located on Mt. Desert Island, home of the famous Acadia National Park, is one of the most stunningly beautiful and frequented naturalist vacation spots in America. The primary teaching goal of this unique workshop is to teach students of all ages how to use primary source biological material in the microscopic realm, which exists all around us as a source of inspiration for their artwork. The Maine Coast in the summer is an abundant resource for this kind of study and with its massive eleven-foot tides it is an ideal place to collect samples and learn about coastal ecosystems and how they operate and also how they are impacted even on a microscopic scale from anthropogenic sources.
The students in this dynamic Workshop will interact, understand, and connect to the natural world along the Maine Coastline in a way few people get to see it through the lens of a microscope. This multi- disciplinary two-week workshop takes students through the steps of specimen and data collection in the field, specimen preparation, visualizing the specimens under the microscope, categorizing their specimens and creating artwork based on their findings. Field trips will be augmented by lectures on Maine Marine Coastal Ecosystem Biology, one day of Lab work at the prestigious MDI Labs , studio art classes as well as lectures on Environmental Art and practices around the world. This workshop's strength is its hands approach marine field science, lab work and multimedia art which teaches students of all ages how to use primary source biological material as their inspiration for art-making. The Workshop will culminate in a final exhibition that portrays a contemporary portrait of the Maine Coastline on a microscopic scale in Summer 2017 open to the general public at ArtWaves in downtown Bar Harbor.
Truly an adventure in citizen science and artmarking not to be missed!
To ENROLL and read teacher's Bios go to ArtWaves: www.artwavesmdi.com
Partners Websites:
ArtWaves: www.artwavesmdi.com
MDI Biological Labs: https://mdibl.org
The Ocean Foundation: www.oceanfdn.org
Mara G. Haseltine:www.calamara.com