TRAC Announces New York Artists, Anne Richter & Dan Greenfeld, July - August 2019 Art Show
---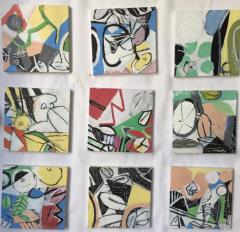 TRAC Announces New York Artists, Anne Richter & Dan Greenfeld, as mid-July to mid-August 2019 Art Show
Artists' Reception on July 13th from 4:00-5:30 pm
June 27, 2019, Newry & Bethel, Maine: Table Rock Arts Center (TRAC) is honored to announce its newest exhibition, Anne Richter with Dan Greenfeld as TRAC's next exhibition. The installation will run from July 13-August 11, 2019. Richter is a painter and Greenfeld, a sculptor.
TRAC celebrates the Anne Richter & Dan Greenfeld Art Show with an Artists' Reception on Saturday, July 13, 2019 from 4:00-5:30 pm at 162 Main Street in Bethel. The event is open to the public.
Hailing from New York City, Richter is a fifth-generation Greenwood, Maine summer camp resident. She is a noted artist with solo and group exhibitions throughout the United States and in Italy and Japan.
For 30 years, Richter has taught art; "Creative Pathways" is her seminar on creativity. Publications include "Embracing Change" (Studio Potter), "In Celebration" (Lines from the League), and "Linea" (Journal of the Arts Students League of New York). She holds an MFA from the Tyler School of Art, Philadelphia and Rome, and a BFA from Carnegie Mellon University.
Dan Greenfeld began making art and ceramics later in life, inspired by his wife, Anne Richter. He was captivated by the Japanese aesthetic and culture in which ceramics, sculptural and functional, is a revered art form.
"Before I began making sculptures, I made teapots, tea bowls, and vases, with strong sculptural elements, and my work was shown in a number of group shows and galleries," says Greenfeld. "From my first involvement in ceramics I searched for a surface that would be comparable in spirit to the surfaces in certain abstract expressionist paintings and historic Japanese ceramics. I decided on extended firings in a wood burning kiln and built one near Schenectady, New York in 2009. I began making abstract sculptures in 2012 and have been enjoying seeing that work evolve," he continues.
Table Rock Arts Center will host a talk, The Importance of Place, with Richter and Greenfeld in late July or early August. Details forthcoming.
About Table Rock Arts Center (TRAC)
Table Rock Arts Center is an integrated environment featuring two gallery spaces—one for multimedia and one for shows and workshops—that nurtures the fine arts, healing arts and living arts, providing a heightened cultural experience for the community. Every six to eight weeks, a new art exhibition is installed in TRAC's show space. Over the course of a year, the gallery undertakes to present a wide diversity of artistic expression and experience.