The Dance Hall celebrates first decade with 10th Anniversary Celebration and Fundraiser event
---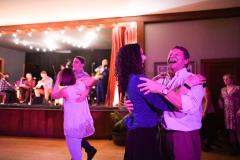 The Dance Hall celebrates first decade with 10th Anniversary Celebration and Fundraiser event
KITTERY, MAINE – The Dance Hall in Kittery, Maine, celebrates the organization's first decade with a 10th Anniversary Celebration and Fundraiser, an evening of food, beverage, live music and dancing to benefit new educational programs designed to connect The Dance Hall to a broader public audience, including school children throughout the region. The event will take place at 7:00 p.m., October 14th in The Dance Hall.
"The organization was founded in 2011, but we were not able to celebrate our tenth anniversary, due to the pandemic closure." says Drika Overton, founding artistic director of The Dance Hall. "We're excited to have made it to this milestone and this event is about looking back to honor and acknowledge where we've been while looking ahead to an exciting future."
Supported by in-kind donations The Dance Hall's Neighborhood Business Partners, proceeds from the event will directly support a suite of new educational programs centered around The Dance Hall's historic venue, including a field trip pilot program for local school children.
The new programs, including a pilot field trip program for elementary schools, will provide the public with an interactive look at The Dance Hall's history as a Grange Hall. Founded in 1867, the Grange was formed as a national agricultural organization with a local focus. For over a century Grange Halls were central to the life of rural communities across the United States and Kittery was no exception. Its Grange Hall was the community's cultural hub, the site of lectures, meetings, civic projects, celebrations, and dances.
"While Kittery's Grange chapter dissolved late in the century (as happened with many subordinate Granges), we recognize that we are stewards of a historic building," said The Dance Hall Executive Director Sarah Duclos. "As we move into our next decade, we
are developing tours and workshops designed to highlight the connection between the
artistic programming that we currently offer and the historical legacy of Grange Halls as
centers for rural cultural life."
These programs will build off of The Kittery Grange and Foreside Story Project, spearheaded by Overton in 2014, which turned local history into a temporary living exhibit. "With our recently increased staffing capacity, we are now able to develop Drika's rich research into more permanent exhibits that will enhance our ability to share the joy of Maine history, music and dance with the broader public - and most excitingly, school children across York county through our new field trip program," said Duclos. The field trip program is slated to pilot in Winter of 2023.
The Dance Hall's 10th Anniversary Celebration and Fundraiser will include a selection of appetizers from local restaurants, beer and wine, a swing band spearheaded by Jason Anick, dancing and more. Tickets are $75/person and are available for purchase. Visit https://www.thedancehallkittery.org/events/anniversary10 for more information and to RSVP.
###