The Dance Hall in Kittery Re-Opening October 1
---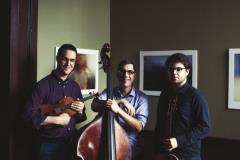 WE'RE LIVE IN THE HALL AGAIN! GRAB YOUR SEATS!

After being closed for over 18 months, The Dance Hall in Kittery will re-open on October 1, 2021 with a special concert featuring violinist and The Dance Hall's Django By the Sea Festival founder, Jason Anick, who has assembled an all-star group of musicians to celebrate the music of Django Reinhardt. Jason Anick and The Gypsy Jazz All-Stars includes guitarist, composer and arranger Max O'Rourke; bassist, composer and bandleader Greg Loughman; guitarist Jack Soref; and special guest Giorgio Albanese, an award winning accordionist from Italy.
The Hall has made significant upgrades to its facility, including a new HVAC system with air purification, insulation, and heating and cooling condensers. Other Covid safety protocols will be in place, including requiring proof of vaccination, or a negative PCR test within 3 days, a masking in motion policy, and reduced seating for social distancing.

Jason Anick and the Gypsy Jazz All-StarsFeat. Max O'Rourke, Greg Loughman, Jack Soref, and Giorgio Albanese
One of the youngest violin professors at Boston's Berklee College of Music, Anick is considered "a rising star in the world of jazz violin and mandolin" (Downbeat Magazine). In addition to leading various groups under his own name and performing with the Rhythm Future Quartet, Anick has been touring and recording with Grammy award-winning Nashville guitar virtuoso John Jorgenson since 2008 when he was recruited while still a senior at the Hartt Conservatory. Over the past few years, Jason has been focusing on arranging and composing for the Rhythm Future Quartet, Jason Anick Acoustic Trio, and the Anick/Yeager Quartet. The Rhythm Future Quartet, which Jason started with Finish guitar virtuoso Olli Soikkeli, is rapidly becoming one of the preeminent Gypsy jazz groups in the country.
Giorgio Albanese was born 30 years ago in Ostuni (Puglia) in southern Italy. He has represented Italy three times at the prestigious World Accordion Championships and won more than 30 national and international musical competitions, becoming one of the youngest accordion players with the most awards. Since January 2018 he's been studying Jazz Composition and Film Scoring at Berklee College of Music and is part of the advanced performance program at Berklee Global Jazz Institute where he is studying with legends of contemporary jazz, such as Danilo Perez, Joe Lovano, Dave Liebman, John Patitucci, Ben Street, Adam Cruz.
Guitarist, composer, and arranger Max O'Rourke was born and raised in West Rutland, Vermont. His interest in guitar began when he was six and has since progressed into a lifelong journey. While touring around the world with the Gonzalo Bergara Quartet, Rhythm Future Quartet and The Jason Anick Trio, he has built up a significant amount of original work and is now leading his own project. His debut album Disquiet draws from his roots in gypsy jazz and also marks the start of his love for the electric guitar.
Bassist, composer, and bandleader Greg Loughman has made a name for himself as an "emphatically lyrical" -Scott Albin, JazzTimes, versatile, and sensitive accompanist who plays "with sublime authority" -Raul d'Gama Rose, and "delivers not only the foundation, but also intriguing, melodic, cleanly stated solos" -Bill Donaldson, Cadence Magazine. Born in Zanesville, OH, Loughman currently lives in Boston, MA, where he earned a Master of Music degree from the Berklee Global Jazz Institute. He has performed and/or recorded with artists including Danilo Perez, Jerry Bergonzi, George Garzone, Hal Galper, Mark Murphy, and many others.
Born and raised in Madison, WI, Jack Soref has spent the last 15 years living in Boston, where he has been one of the pillars upon which the city's fairly substantial Jazz Manouche music scene rests. He has performed in concert with Jazz Manouche luminaries like Violinists: Tim Kliphius, and Ben Powell and Guitarists: Adrien Moignard, Gonzalo Bergara, Aurélien Bouly, Olli Soikkeli, Titi Bamberger, and Joscho Stephan. Additionally, Jack has been a guitar instructor at Django in June's week long Jazz Manouche music Camp in Northampton almost every year since 2009.
Other October concerts include Boston's Corner House, an Appalachian style string band on October 15th; and The Mike Block Trio on October 24th.
Visit www.thedancehallkittery.org for more information.***************************