Veteran's Art Showcased in New Art In the Capitol Exhibit
---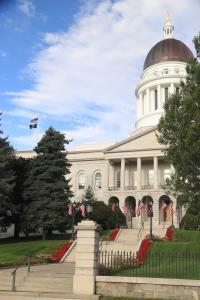 Maine Veteran's Art Showcased in New Art In the Capitol Exhibit
AUGUSTA, ME--The stars, stripes and other colorful creations are now on display at the Maine Veteran's Art Show at the State Capitol Complex from September through November 30, 2017.
This special annual exhibition is presented by the Maine Arts Commission, as part of the Art in the Capitol program, in partnership with the VA Maine Healthcare Systems-Togus to recognize and encourage Maine service members to pursue their passion and promote their art or craft, no matter the skill level.
In 2016 Maine legislators designated November 1 as Veterans in the Arts and Humanities Appreciation Day in Maine. Throughout the three months of the exhibition, the majority of the veteran's artworks will be hanging proudly in the halls and committee rooms of the Burton M. Cross Building. Each piece features the artist's name accompanied with a quote that offers insight into their work and creative process.
Veteran artist Debe Loughlin states: "When I create and make work, it often reflects my experiences and time in the military service – it is the moment of the final work when I step back and have that 'Ah-ha' moment. It feels great."
Steven Rothert, another veteran artist includes: "War is an ugly and terrifying experience. Yet amid the trauma and pain, beauty cries to be seen and recorded………ART!"
The Veteran Artists program is supported by Togus Recreation Therapy, which provides a variety of creative arts, adaptive sports and individualized herapy programs for Maine's veteran population.
"The goal is to promote lifelong health and well-being through regular participation in meaningful leisure pursuits, regardless of disability, said Courtney Oliver, one of Togus' recreational therapists. "The arts give our veterans a creative outlet that helps them to heal and grow."
The program asks that you show your support for those that have served by purchasing and displaying veteran art. If interested, please contact Courtney Oliver at Courtney.Oliver@va.gov.
You can also like them on Facebook: VA Maine Healthcare System
For more information on the U.S. Department of Veterans Affairs, please visit: www.va.gov
For more information on the Maine Arts Commission, please visit: www.mainearts.com
The Maine Arts Commission supports artists, arts organizations, educators, policy makers, and community developers in advancing the arts in Maine. For more than 50 years the Commission has encouraged and stimulated public interest and participation in the cultural heritage and programs of our state; has worked to expand the state's cultural resources; and has encouraged and
Filter Press Releases
Contact Information
Ryan Leighton
193 State Street
SHS 25
Augusta
ME
04333
207-287-2726
vog.eniam@nothgiel.j.nayr