Water-themed art show, live music and more at August Art Walk LA
---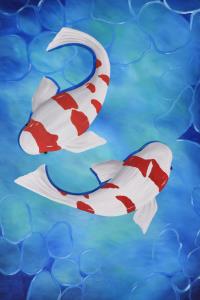 Water-themed art show, live music and more at August Art Walk LA
Lewiston, Maine, August 20, 2019 - LA Arts presents Art Walk LA on Friday, August 30 from 5-8 pm, featuring artists and artisans at more than 20 locations along the downtown Lewiston-Auburn walk route, plus kids' activities in Dufresne Plaza. Among the highlights:
Water-themed art show at Bear Bones Beer. 43 Lisbon St., Lewiston. Did you know beer is 90 to 95 percent water? Lake Auburn Watershed Protection Commission (LAWPC) and Bear Bones Bear partnered to curate a water-themed art show that celebrates the importance of this vital resource. Brewery visitors have been voting all month for their favorite work by submitting L-A artists. The winning artist will receive a $50 Bear Bones Beer gift certificate, courtesy of LAWPC.

Midcoast Orchestra trio at LA Arts. 221 Lisbon St., Lewiston. In the LA Arts Gallery, enjoy Joplin and Gershwin music performed by Midcoast Orchestra trio Mary Hunter, violin; Ray Libby, clarinet; and Patsy Dickinson, cello.

Sylvain's Acadian Aces free concert. Dufresne Plaza, Lewiston. Cajun two-steps, waltzes and more with vocalist and guitarist Robert Sylvain, charismatic fiddler Hawk Kallweit, and accordion ace Junior Stevens.

Married with Chitlins free concert.

Festival Plaza, Auburn. Acoustic duo Liz and Chris Lannon perform traditional American music, Celtic reels and jigs, and more.
Art Walk LA happens on the final Friday of each month from May through October from 5-8 pm. For a map and full list of venues and artists visit www.laarts.org/artwalk/
LA Arts presents Art Walk LA with gratitude for its numerous community partners including Platinum sponsors City of Lewiston, Berman & Simmons, Grand Rounds, Bates College, and Sun Journal; Gold sponsors Baxter Brewing Co. and Liberty Mutual Insurance; Silver sponsors Austin Associates, Community Credit Union; Hardy, Wolf & Downing; Leary & Detroy; Linnell, Choate & Webber LLP; Statefarm; Rainbow Bicycles; Bronze sponsors Champoux Insurance Agency, City of Auburn, Law Offices of Joe Bornstein, Mechanics Savings Bank, Norway Savings Bank, Optometric Associates, Sonder & Dram, Twin City Financial Group; and In-Kind sponsors Marquis Signs and Panera Bread. Artists, artisans, and performers and volunteers are encouraged to participate by registering at http://www.laarts.org/artwalk/register/.
Since 1973, LA Arts, the arts agency for the cities of Lewiston and Auburn Maine, has pursued a mission to engage and inspire a vibrant community through arts and culture. The agency works with governments, businesses, schools and local arts and cultural organizations to create opportunities for community members across the generations to experience, learn, and participate in the arts. L/A Arts organizes arts programs and initiatives, supports the work of local artists and arts organizations, and highlights the essential role the arts play in shaping an economically vital, socially integrated, and forward-looking future for its community. Learn more at www.laarts.org.