'A Walk in the Woods' on Exhibit May 2 - 30 at Richard Boyd Art Gallery
Date: May 2, 2017 - May 30, 2017
Time: 10:00 AM - 05:00 PM
Location: Richard Boyd Art Gallery, Portland
---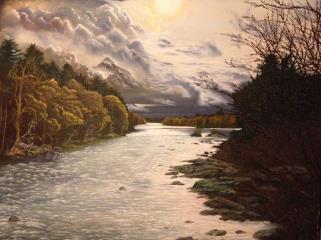 (Portland, ME) Richard Boyd Art Gallery opens an exhibit of American landscape paintings on Tuesday, May 2 at 10:00 a.m. Visual arts depicting landscapes have been around for centuries and remain one of the most collected.
'A Walk in the Woods' features a selection of original works of visual art by artists' Austin Stilphen - paintings in oil; Bob Santandrea - images in pastel; and Paul J. Noël - paintings in oil and watercolor.
Representational landscape art can depict an artist's interpretation of a specific scene or a detailed rendering of a landscape before them. Interest in specific genres of art change over time, but visual arts depicting landscapes continue to flourish as artists create works that document natural areas untouched by modernization in hopes of reawakening our love of nature.
The exhibit is on view free of charge between the hours of 10:00 a.m. and 5:00 p.m. daily through May 30, 2017. The public is invited to meet artists Austin Stilphen and Paul J. Noel at a reception at Richard Boyd Art Gallery on Saturday, May 6 between the hours of 12:00 noon and 3:00 p.m.
For additional information about the reception or exhibit please contact Richard Boyd Art Gallery by phone at 207-712-1097, via email at info@richardboydartgallery.com or visit http://www.richardboydartgallery.com . Like the gallery on facebook at http://www.facebook.com/RichardBoydArtGallery .
Copyright©2017 Richard Boyd Art Gallery All Rights Reserved.