"Mr T/Banned in Camden"
Date: January 24, 2019 - February 9, 2019
Location: Speedwell Projects, Portland
---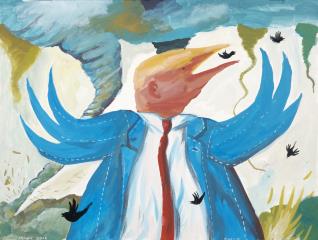 On exhibit in the Speedwell Project's Street Window are a collection of works on paper that were taken down 24 hours after they were first hung at a venue in Camden, Maine, during the mid-term elections last November. The venue owners, though genuinely supportive of the work, began, after viewing the drawings arrayed within their shop, to fear that the political content might alienate some of their clientele and removed the work from their walls. Speedwell Projects will show a selection from the original grouping.
These works take their starting point from one person, but more than representing an individual they explore a larger world of compartmentalized identities coughed up since Donald Trump has taken office, as supporters and detractors alike are swept along in his parade, scurrying to find footing. Gone are the formalities of diplomacy, leadership and decorum of years gone by and instead what has come forward is a feed back loop regurgitating the darkest of brash, wind driven madness that popular America has cultivated since its inception. From Twitter blue to Ajax white to Everlast red our identities, affiliations and alignments are caught up in a blur of interconnected alliances. As we attempt to untangle ourselves from the onslaught of storms, the suffocating mantle of stripes or the submerged life-blood within the earth's strata, deeper issues of cooperation versus division and ultimately survival, loom in the background.