"Natasha Mayers: an Un-Still Life" Film Premiere
Date: February 25, 2021
Time: 07:00 PM - 08:30 PM
Location: Virtual Event, Virtual
---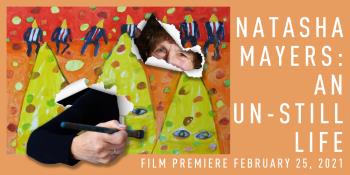 TIME: Thursday, February 25, 2021, 7:00–8:30 p.m.
VENUE: Virtual, via Vimeo & Zoom Video Conference
TICKETS: via Eventbrite
Artist. Trickster. Activist.
Natasha Mayers: an Un-Still Life is a new documentary film that follows Maine's "most committed activist artist" in her quest to engage with the questions that face people-of-conscience today.
Humor. Anger. Love. Outrage. Grief.
Hear Natasha's inspirational call to activism; join her and filmmakers Anita Clearfield and Geoffrey Leighton at the virtual film premiere!
Now, more than ever, people want to see truthful, creative role models like Natasha Mayers, who Maine Senator George Mitchell called a "state treasure." Natasha Mayers:an Un-Still Life presents an artist who has remained true to her passion for over 50 years, following Natasha as she takes on social, economic, and environmental justice issues with humor, irreverence, and a keen aesthetic that enlightens while it entertains. Using a non-traditional approach, the film's animation and special effects reflect Mayers' own art-style.
Get your tickets today--free for all and all are welcome!