"The Value of Thought" by Alison Rector at Ogunquit Museum of American Art
Date: September 1, 2017 - October 31, 2017
Location: Ogunquit Museum of American Art, Ogunquit
---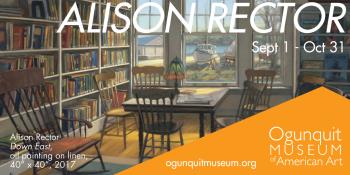 The Ogunquit Museum of American Art is exhibiting a group of luminous oil paintings by Alison Rector titled The Value of Thought. Rector's workcelebrates the beauty and serenity of Maine's public library buildings in 18 oil paintings. Her work has been praised for the depiction of light with radiant color and quiet beauty. The show titled The Value of Thought is on view in from September 1 until October 31, 2017.
Alison Rector, an artist known for her paintings of interiors, has been inspired by Maine's public libraries in particular the Carnegie libraries. In particular, she has been drawn to the twenty Carnegie libraries anchoring many Maine villages and towns. By the early twentieth century, a Carnegie library was often the most imposing structure in hundreds of small American communities. Since 2014, she has created more than 40 oil paintings of these shared spaces dedicated to learning and reflection. With adept use of color and composition, Rector invites the viewer to linger in rooms designed for quiet reflection, public places where the community values thought.
Rector, a Maine painter and printmaker, lives in Monroe and South Portland. She is a graduate of Brown University where her degree included coursework at the Rhode Island School of Design.
OMAA is open May 1 through October 31, daily 10 a.m. to 5 p.m. For more information, visit www.ogunquitmuseum.org.
Rector's exhibit at the Ogunquit Museum is sponsored by Greenhut Galleries in Portland. For more information, visit greenhutgalleries.com and alisonrector.com.
The Value of Thought: an Ogunquit Museum exhibition of paintings celebrating Maine Public Libraries by Maine artist Alison Rector
When: September 1 to October 31, 2017
What: Art exhibit of 18 oil paintings by Alison Rector, Maine artist
Where: Ogunquit Museum of American Art, 543 Shore Road, Ogunquit, Maine
Time: The Museum is open 7 days a week, 10am to 5pm, until Oct. 31