A Man of No Importance (musical)
Date: March 2, 2018 - March 9, 2018 (Sunday, Wednesday, Thursday, Friday, Saturday)
Location: Main Stage at Russell Hall, USM Gorham Campus, Gorham
---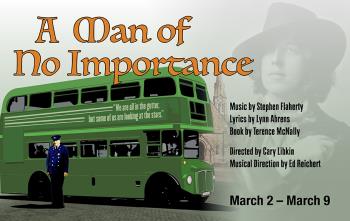 A Man of No Importance
Based on a book by Terrence McNally
Music by Stephen Flaherty
Lyrics by Lynn Ahrens
Directed by Cary Libkin
Music Directed by Edward Reichert
March 2 – March 9, 2018
Friday, March 2 at 7:30 p.m.
Saturday, March 3 at 2:00 p.m.
Saturday, March 3 at 7:30 p.m.
Sunday, March 4 at 5:00 p.m.
Wednesday, March 7 at 5:00 p.m.
Thursday, March 8 at 7:30 p.m.
Friday, March 9 at 10:00 a.m. – School Matinee (Grades 8 & up)
Friday, March 9 at 7:30 p.m.
In 1964 Dublin, Ireland, bus conductor Alfie Byrne shares his passion for theater by reciting poetry to his passengers, and directing a troupe of players in the basement of St. Imelda's Catholic Church. The trouble begins when Alfie decides to produce his favorite playwright Oscar Wilde's scandalous play, Salome. The church simply can't allow such heathen decadence to be performed, even in the basement. During the course of a tumultuous rehearsal process, Alfie learns that the theatre is not a place to hide from the world, but instead the very place where we may finally discover our true selves. As author Terrance McNally writes, "The small world of the St. Imelda's Players becomes an enormous one and I would be surprised if you did not find at least a small part of your world in theirs." Indeed, you will see that Alfie Byrne is a man of great importance.
Tickets: $10 students, $16 seniors, faculty, staff, alumni, $22 general public
Box office: https://app.arts-people.com/index.php?ticketing=usmt
Discount Wednesdays!
Join us for our 5:00 performances on Wednesdays and get your seat for just $10.
A collaboration with the USM School of Music.
A MAN OF NO IMPORTANCE is presented through special arrangement with Music Theatre International (MTI). All authorized performance materials are also supplied by MTI, 421 West 54th Street, New York, NY 10019 Tel.: (212) 541-4684 Fax: (212) 397-4684 www.MTIShows.com.
Please arrive at least 15-30 minutes early. Open seating starts 30 minutes before the start of the performance. Performances begin promptly; late arrivals are seated at the discretion of the House Manager.
Those needing special accommodations to participate fully in this program, contact the USM Theatre Box Office (207) 780-5151. Hearing impaired: call USM's telex / TDD number (207) 780-5646.