ART WORKS FOR HUMANITY LIVE ART AUCTION 2023
Date: October 1, 2023
Time: 04:00 PM - 06:00 PM
Location: ART WORKS FOR HUMANITY ART AUCTION LIVE ART AUCTION2023, Belfast
---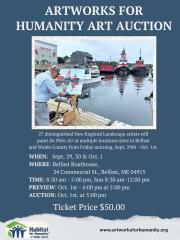 ArtWorks For Humanity Live Art Auction is returning in 2023 to host 27 plein-air artists in Maine's picturesque Waldo County the weekend of September 29th to the auction day on Sunday, October 1st, 2023!
27 distinguished New England Landscape artists will paint En Plein Air at multiple locations sites in Belfast and Waldo County from Friday morning, Sept. 29th - Oct. 1st.
Ticketed Reception ~ Live Auction $50.00 per person
Sunday, October 1st. 4:00 pm - 6:00 pm Belfast Boathouse 4:00 pm Enjoy Hors d'oeuvres while you admire the artwork.
5:00 pm Participate in the live auction with auctioneer Kaja Veilleux of Thomaston Place auction Galleries.
Tickets can be purchased by calling (207)338-2344 or in person at the law office of
Mailloux & Marden, 151 High St., Belfast, ME 04915
For more information please visit: www.artworksforhumanity.org Habitat for Humanity of Waldo County,
93 High St., Belfast, ME 04915 (207)338-2344