An Evening with Back Porch Mamas
Date: June 10, 2023
Location: Unitarian Universalist Church of Brunswick, Brunswick
---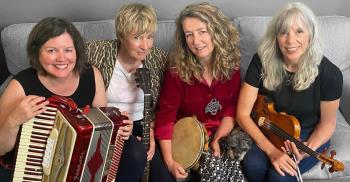 UUCB Concerts for a Cause
presents
Porch Party Mamas
UUCB Concerts for a Cause will host Porch Party Mamas on Saturday, June 10, 2023 at 7:30 p.m. at the Unitarian Universalist Church of Brunswick to raise money for the Brunswick Area Teen Center and Maine Family Planning.
The Porch Party Mamas are an engaging and magnetic Boston-area band of four female musicians who've developed a fun and moving blend of folk, country, Celtic, and blues repertoire. They play beautiful arrangements of lovely and whimsical songs featuring dynamic lead vocals and lush harmonies backed by virtuosic guitar, fiddle, accordion, piano, percussion, banjo, and bass playing.
Inspired by playing and singing each others' songs at their own "porch parties", these established Boston area musicians and singer/songwriters decided to combine their individual talents and create their own band. They took their act on the road and "Porch Party Mamas" was born. All are seasoned players, each with their own pervasive individual music persona and critical accolades. Between them, they have shared the stage with a distinguished litany of artists, including Willie Nelson, the Indigo Girls and Lyle Lovett.
$20 in advance, $25 at the door, $10 students/children. Available at the church office, Gulf of Maine Books or online at https://ticketstripe.com/porchparty.