Bellepoque
Date: May 26, 2022 - June 1, 2022
Time: 04:00 PM - 08:00 PM
Location: All Roads Hub, Bridgeton
---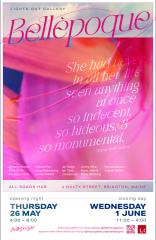 Bellepoque, shorthand for La Belle Epoque, or "the beautiful age," describes the period of 1890 – 1914. A golden era, gilded even, in retrospect; a time of peace and prosperity between wars. It was a time of innovation, of railway barons and railroad workers, of the Parisian can-can dancers of the Moulin Rouge, haute couture, and orchids grown under glass. Philosophers examined the ego, artists expressed symbolist visions and exposed societal illness in the face of the Fin de siècle, fearing and welcoming the approaching 20th century. In his book A Nervous Splendor: Vienna 1888-1889 Frederic Morton tells the history where, in the span of only ten months, "the Western dream started to go wrong."
Novelist Joris-Karl Huysmans wrote in his 1903 publication of Against Nature, that he had wished to portray a man "soaring upwards into dream, seeking refuge in illusions of extravagant fantasy, living alone, far from his century, among memories of more congenial times, of less base surroundings ... each chapter became the sublimate of a specialism, the refinement of a different art; it became condensed into an essence."
The exhibition Bellèpoque, uses that rich and turbulent period in history as a jumping-off point to present themes of escapism, constructed realities, materials and waste, and explore the relationship between beauty, decay, opulence, loss and sometimes catastrophic change.
You are here, at The All Roads Hub, a multipurpose warehouse space off of Main Street in Bridgton that, for the duration of the show, and like a traveling carnival, contains a multiverse of artists' works. It is fitting that a space previously used as a redemption center; a place of recycling, can serve as an exhibition space for art. The path of the artist, their work, is to recycle ideas gleaned from their individual and collective neighborhoods and histories, cultures, life experiences, dreams, fears, and myths, and to convey their insights to viewers with a variety of materials and with some entertainment value thrown in. The art in this exhibit picks up many threads of our time, it is our own "Nervous Splendor" as we navigate our way into an uncertain future.
Be prepared to begin a journey. explore a world where a tree becomes a basket, a meteor strikes a town, empty dresses are formed with brushstrokes and memories, lilies grow in a ditch next to a dead fox, women float in a river that extends towards an endless horizon and moths fly in a night lit room. Some of the titles clue you into the artists' associations; the ominous, Horsemen of the Apocalypse, the humorous, A Robot Lost in the Forest, you laugh just before thinking "wait, what?" The optimistic Just Happy to Sit Outside suggests that you content yourself to enjoy the colorful abstractions of the painting.One title, without a question mark, reads as a statement, When Will it Get Easier. If history is any teacher we cannot know that, but others who come after us will view our present from a new perspective somewhere ahead, in a future as unknown and unknowable to us as an endless horizon.
Featuring the work of:
Adriane Herman
Brian Smith
Eva Goetz
Gabriel Frey
Greg Shattenberg
Holden Willard
Ian Factor
Ian Trask
Jocelyn Lee
Jimmy Viera
Karen Jelenfy
Kathy Weinberg
Pamela Moulton
Virginia Valdes