Book Talk with Jane Nylander: "The Best Ever!" Parades in New England 1788-1940
Date: January 12, 2023
Time: 06:00 PM - 07:00 PM
Location: USM Franco-American Collection, Lewiston
---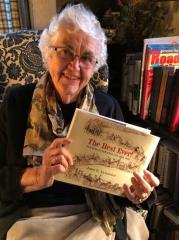 We are excited to welcome Jane Nylander, whose career as a museum curator, director, and trustee is paralleled by academic teaching, lectures given world-wide on a variety of topics, and the publication of more than one hundred articles and books on historic textiles and New England daily life. Notable among these is Our Own Snug Fireside: Images of the New England Home, 1760 - 1860. She has served as a Trustee of Historic Deerfield, Old Sturbridge Village, the New Hampshire Historical Society, the National Society of the Colonial Dames of America in the State of New Hampshire, and the Worcester (Massachusetts) Historical Society. Her most recent exhibitions "Behind Closed Doors: Asleep in New England" and "Fresh Goods: Shopping in a New England Town," presented at the Concord Museum received accolades and attracted many visitors. Much of her work has been enriched by collaboration with her husband, Richard, who is Curator Emeritus of SPNEA, now Historic New England. A personal pleasure throughout her career has been extensive research in New England's local historical societies and town libraries, one fruit of which is her most recent book, "The Best Ever!" Parades in New England 1788-1940.
Nylander will discuss her new book "The Best Ever: Parades in New England, 1788 – 1940" published by Bauhan Publishing and Old Sturbridge Village. Based on extensive research in the collections throughout the region, the work is focused on the creativity and narrative qualities of parade floats rather than the uniformity and power of long lines of marching white men. Abundant illustrations reveal the rich diversity of New England parade traditions ranging from the Ratification of the Constitution in 1788 to the eve of World War II. Satirical presentations by troops of Antiques and Horribles provide rich humor as well as social commentary in some locations, while elsewhere they are unknown to many.
Parade floats provide a stage for members of the community to create visual narratives of deep personal meaning. Persistent themes of liberty, education, victory, discovery, history, and domestic life are illustrated with allegory or tableau. In many ways these can be seen as a kind of folk art. Whether the product of professional designers or talented citizens, successful parade floats make use of clear and familiar images to convey ideas that can be understood in a minute. Each is seen in an exciting public moment, leaving lasting memories of reassuring symbols. They also reveal ways in which ideas have been shaped over time and changed by circumstance, even as ideas about significance and perceptions of the past are still evolving and are questioned in the present. After the presentation, there will be time set aside for a Q & A session.
This event will be Zoom only! Register here for the Zoom link:
https://maine.zoom.us/meeting/register/tZcvf-2urDwiGN2VYOWlWEX6L_iZxdd-e9wh