Bookmaking class
Date: October 16, 2021
Time: 10:00 AM - 03:00 PM
Location: Tear Cap Workshops, Hiram
---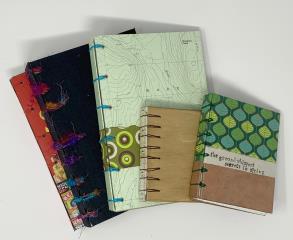 Bookmaking Class coming up October 16th!
Make your own Journal with Wood Covers and Secret Belgian Binding
Make your own hand-bound beautiful – and useful – journal. The Secret Belgian Binding is a contemporary book binding style with lots of room for creativity, inside and out. The covers can be collaged on, made of recycled material or wood. The spine can be build to allow for extra room, so it's perfect to use as a scrap book, photo album or idea book for your other creative pursuits. In class we'll use reclaimed wooden covers, weave the cover together and sew in pages. No previous book binding experience is necessary. All of the tools and supplies you need will be provided, as well as instructions for you to take home and continue making books.
Saturday, October 16th
10 a.m. – 3 p.m. (with a 1/2 hour break for lunch)
Instructor: Anna Low of Purplebean Bindery
Cost: $55 tuition and materials
Class limit: 10 participants
We need at least 5 participants to continue with the class
Ages: 18+ to register
For more information and to register: https://tearcapworkshops.org/events/bookmaking-class-make-your-own-journal-with-wood-covers-and-secret-belgian-binding-2/
We'll meet at Tear Cap Workshops in the Community Woodworking Shop.
Please bring your own bag lunch (We have a refrigerator and microwave available if needed!)
About the Instructor, Anna Low of Purplebean Bindery:
Purplebean Bindery was born out of necessity. While in college, Anna took a book binding class, became fascinated with the book form and couldn't stop making books. As her shelves sagged with stacks of hand-bound books, it seemed logical to begin selling them to make room for more and to fund her book making habit. Anna says, "Every book I make, whither it be blank or an artist book, I think of as a marriage of form and function. I love the intimacy and interaction of the book form too. Leaf through, unfold or unroll one of my artist books and you're actively discovering and participating in the art."
Anna's formal education is in photography and art education, and she now divides her time more or less equally between the three, with some design work on the side and the rest of life, which includes a wonderful family, a sassy rescue mutt, hiking, cooking, and serious vegetable gardening. Anna's home studio is bright and sunny, in Auburn, Maine. Read more about Purplebean Bindery at: http://www.purplebeanbindery.com/index.html