CSA: Community Supporting Arts Exhibition at Harlow Gallery
Date: October 27, 2017 - December 2, 2017
Location: Harlow Gallery, Hallowell
---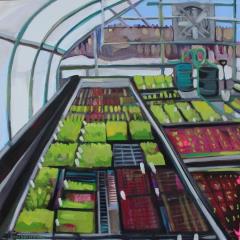 The public is invited to attend an opening reception for CSA II: Community Supporting Arts, presented by Harlow Gallery at 160 Water Street in Hallowell and meet the artists and farmers on Friday, October 27, from 5-7pm. CSA II is an exhibition showcasing artwork from the CSA project during which participating artists have spent the 2017 growing season creating art inspired by their farmer's lives, work, and landscape. The resulting body of artwork is on view at Harlow Gallery from October 27 through November 4, 2017.
Highlights of the evening include a projection art installation by Nick Runco, a screening of Tim Ouillette's short film, "Imperishable", and Tyson Pease will create an illustration on site. Tim Ouillette's film will start at 6:30pm. Nick Runco's projection art will be taking place from 5-7pm at the Harlow Gallery's new 100 Water Street location which is just a 2 minute walk away.
Exhibitions of work from CSA II: Community Supporting Arts project are also on view at the Maine Farmland Trust Gallery, located at 97 Main Street in Belfast, through November 10; and at Engine, located at 128 Main Street in Biddeford, from November 10-December 16 with an opening reception Friday, November 10, 5-8pm.
Participating artists and farms are: Ingrid Ellison of Camden (paired with Hope's Edge Farm), Helene Farrar of Manchester (paired with Farmer Kev's), Dylan Gifford of Kents Hill (paired with Wholesome Holmstead), Karen Merritt of Portland (paired with Crystal Spring Farm), Anna O'Sullivan of Portland (paired with The FarmME), Tim Ouillette of Portland (paired with Hancock Family Farm), Tyson Pease of Gardiner (paired with Tender Soles Farm), Alyssa Phanitdasack of Portland (paired with Sheepscot General Farm and Store), Jessica Rhoades of Thomaston (paired with Whatley Farm), Susan Bartlett Rice of Walpole (paired with Tarbox Farm), Nicholas Runco of Oakland (paired with KVCC CSA), Kris Sader of Orono (paired with Ripley Farm), and Rebecca May Verrill of Portland (paired with Frith Farm).
All the participating farms are Community Supported Agriculture (CSA farms). A CSA farm sells shares at the beginning of the growing season and then provides fresh, seasonal food on a regular basis to each shareholding household throughout the growing season. CSA II will use the power of art to promote the economic and environmental benefits of organic farming and of buying locally grown food. Our food industry is a critical key to a sustainable economy and the health and well-being of Maine citizens in an age of accelerating climate change.
For more information please visit harlowgallery.org or call 207-622-3813.
Harlow Gallery is home to the Kennebec Valley Art Association, a membership based 501(c)3 nonprofit dedicated to connecting and celebrating art, artists and community in central Maine since 1963. We appreciate the support of our sister galleries, Maine Farmland Trust Gallery in Belfast and Engine in Biddeford. Maine Farmland Trust Gallery celebrates agriculture through art, capturing the vibrancy of Maine's farms and farmers—their intimate relationship to the earth, the crops they grow and animals they tend. (www.mainefarmlandtrustgallery.org.) Engine's mission is to foster and integrate the arts and design, education, and sustainable creative entrepreneurialism as an explicit community value and civic priority in Biddeford. (www.feedtheengine.org.)
CSA II: Community Supporting Arts has been made possible by support fromJohnny's Select Seeds, The Fahy Family, and by grant funding fromMaine Community Foundation.
Exhibitions at the Harlow Gallery are underwritten by patron of the arts sponsorsCamden National Bank, and the City of Hallowell, and by season sponsorsCapitol Dental Care, Chris Walters Productions,Eaton Peabody Attorneys at Law,Kennebec Savings Bank,Scrummy Afters Candy Shoppe, andSlates Restaurant.