Choro Louco-Brazilian Choro
Date: June 24, 2022
Time: 07:00 PM - 08:30 PM
Location: Denmark Arts Center, Denmark
---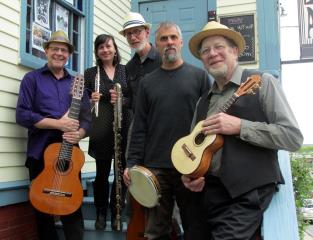 Brazilian Choro has been around for over a hundred years, but in this country its virtually unknown. David Grisman, Mike Marshall and a handful of others have helped introduce the music and the musicians to a larger audience, but it's still largely under the radar of most music listeners…Its beautiful melodies, complex harmonies, and syncopated rhythms combine elements of European folk and classical, ragtime, jazz, Latin, and African music creating a style that is uniquely Brazilian.
Nicole Rabata, flute
Carl Dimow, guitar, flute
David Newsam, 7 and 8 string guitar, mandolin
Joel Eckhaus, cavaquinho, mandolin
Eric LaPerna, pandeiro
Funded in part by a grant from the Maine Arts Commission, an independent state agency supported by the National Endowment for the Arts and community support-Thank you!
COVID PROTOCOL-SUBJECT TO CHANGE BASED ON CHANGING CIRCUMSTANCES