DO NOT MOVE STONES (Digital on-Demand)
Date: October 24, 2021 - November 13, 2021
Location: Settlement Quarry, (Virtual Event)
---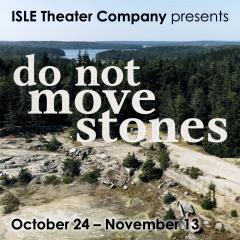 ABOUT THE PLAY
Fleeing from the altar on their wedding day, fifty sisters are forced to forge new paths, ripping tulle and outdated marriage contracts along the way. Unknowingly aided by the poet Sappho, these women arrive on an island in Maine, where their hasty escape goes awry.
DO NOT MOVE STONES is a modern-day retelling of Aeschylus' THE SUPPLIANTS, inspired by Charles Mee's adaptation of the Greek tale. Poetry and humor, original music by LEMMONS, and a tomato-toting nonna collide in this captivating theatrical experience where sisters must search for their own freedoms.
ABOUT THE PERFORMANCE
ISLE Theater Company's production strikes an important balance between uproarious comedy and moving poignancy as it immerses you into a dreamscape of Downeast Maine. Escape virtually to the historic Settlement Quarry on Deer Isle and enjoy this family-friendly comedy from the convenience of your own home!
REGISTRATION REQUIRED: www.isletheater.org/registration