DaPonte String Quartet Concert
Date: November 8, 2018
Time: 07:30 PM - 09:00 PM
Location: Maine Jewish Museum, Portland
---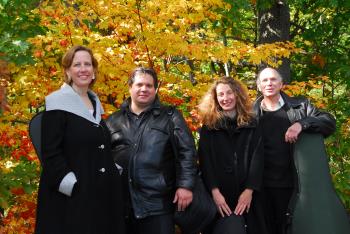 DaPonte String Quartet "Must It Be?" Program featuring Bartók, Beethoven, and Danielpour is on November 3-11, 2018
The DaPonte String Quartet will be performing a new concert program, featuring another romp through the Bartók String Quartet cycle, and a performance of the last major work by Beethoven - his Quartet Opus 135. The DaPonte Quartet will be touring its usual coastal Maine venues with this program beginning on November 3, 2018.
Music on this eclectic program draws upon a venerable but widely misunderstood tradition of social protest and uncertainty. Bartók's String Quartet No. 6 ends with a palpable question posed in the cello; one can almost hear in it a fearfully whispered "What now?"
Beethoven returned to the classical four-movement quartet with his short, witty Opus 135, which posed philosophical questions and opened a whole new world of musical exploration. The enigmatic "Muss es sein?" and "Es muss sein!" ("Must it be?" "It must be!") appearing in the music above the quartet's finale, along with the title "Der schwer gefasste Entschluss," which might loosely be translated as "The Agonizing Decision," together impart a clear sense of existential soul-searching – a sort of musical "To be, or not to be, that is the question:"
This concert series also features the newly commissioned Quartet No. 8 by American composer Richard Danielpour, which was premiered by the DSQ in August. The music is based on the Amy Clampitt poem "What the Light Was Like" depicting natural landscapes and mysterious misfortunes on the Maine coast. Allan Kozinn, music critic with the Portland Press Herald, wrote of the premiere: the "five-movement piece, built of what at first sound like the simplest of materials - unpressured themes, short melodic cells - but which blossom into full, rich, almost pictorial texture".
This concert series will highlight one of the DaPonte String Quartet's most endearing qualities, the ability to give context and meaning to both classic and modern music in some of Maine's most beautiful performance spaces. An acclaimed Maine treasure, voted DownEast Best of Maine and Knox County Best of the Best, the DSQ performs year round in spaces all across the state.
Performances of "Must It Be?" will be:
Nov. 3 - 2:00 pm - Rockort Opera House, 6 Central St., Rockport
Nov. 4 - 2:00 pm – Lincoln Theater, 2 Theater St., Damariscotta
Nov. 8 - 7:30 pm – Maine Jewish Museum, 267 Congress St., Portland
Nov. 10 - 2:00 pm – St. Columba's Church, 32 Emery Lane, Boothbay Harbor
Nov. 11 - 2:00 pm – Unitarian Church, 15 Pleasant St., Brunswick
The DaPonte String Quartet is Maine's premier string ensemble. Founded in 1991 in Philadelphia, it moved to Maine over 27 years ago and now performs more than 50 times a year, state-wide and year-round.
Tickets are $25 or $22.50 online at www.DaPonte.org. Tickets are also available at Sherman's Books in Damariscotta, Camden, and Boothbay Harbor; Longfellow Books in Portland; or Gulf of Maine Books in Brunswick. More information: (940) 595-1917.
Filter Events
Venue
Maine Jewish Museum
267 Congress Street
Portland
ME
04101
Organization
Friends of DaPonte String Quartet
Lisa Westkaemper
940-595-1917
gro.etnopad@asil
www.daponte.org