Duke Robillard Band
Date: June 2, 2023
Time: 07:30 PM - 09:00 PM
Location: Saco River Theatre, Bar Mills
---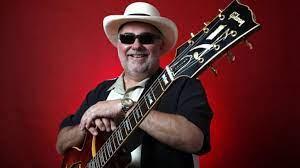 Whether it's a song, a style, an idiom or an image, Duke Robillard will render it with mastery, power, nuance and an unerring grasp of its essence. Duke has carved out one of blues' most illustrious legacies, while also trodding some lofty related territories as a guitarist, vocalist, songwriter, bandleader, studio sideman, producer, label operator and educator. Duke will be joined by Bruce Bears on Keyboards, Doug James on Saxophone, Marty Ballou on Bass, and Mark Teixeira on Drums.

After showing an early affinity for music and guitar, he founded Roomful Of Blues with pianist Al Copley in Westerly, R.I., in 1967. By adding horns, Roomful announced itself emphatically as the prototypical jump blues band, and became a New England legend and a fixture beyond, as did Duke himself. His unsurpassed mastery of the guitar style of T-Bone Walker (later crystallized memorably in his 2004 release "Blue Mood") was deservedly heralded, but his breadth was also head-turning - from swing, standards and ballads to rockers, gutbucket, Chicago blues and rockabilly.

By the time Duke left Roomful after a dozen years, he was firmly established in the upper echelon of contemporary blues guitarists. Duke's resume is decorated with Grammy nominations, Handy Awards and Blues Music Awards, and other honors for his artistry, recordings and productions within the United States and internationally.

On his latest release, "Duke Robillard and his Dames of Rhythm" on M.C. Records, he wields an acoustic archtop and joins six thrushes for evocative and enjoyable renditions of 1920s and 1930s swing tunes; it's a worthy successor to his 2016 BMA-winning "The Acoustic Blues And Roots Of Duke Robillard."