Franco-American Collection Open Collections Night
Date: March 21, 2023
Time: 05:00 PM - 07:00 PM
Location: USM Franco-American Collection, Lewiston
---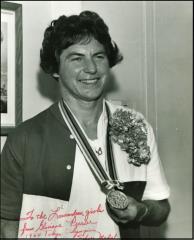 We are excited to invite you to explore our collections as part of an in-person event on Monday, March 20th, 5-7 pm. Join us for small group tours of the Franco-American Collection space led by our staff and board members. Tours will begin every 15 minutes between 5 and 7, with the last tour starting at 6:45. Get to know the Franco-American Collection through our archival materials, explore our space, and learn about our outreach programming from the source! You will also have a chance to view the new Gloriane Perrier Kayak exhibit, now up at the Lewiston-Auburn College campus library. Gloraine Perrier was a local Franco-American, born and raised in Lewiston, Maine, and a multi-sport athlete throughout her lifetime. The exhibit features the Olympic kayak used by Perrier and Francine Fox in the 1964 Olympic Games in Tokyo Japan, where they won the silver medal in Women's Tandem Kayaking - the first time women competed in the tandem competition. Also included are photos of Gloriane and other information regarding her journey into the world of Olympic sports. Join us to commemorate the official opening of this permanent exhibition!
This program is made available, at no cost to the public, by the Franco-American Collection at USM with generous sponsorship from la Délégation de Québec in Boston, and Androscoggin Home Health.
For more information or to register for this free event, contact the FAC archivist, Anna Faherty at anna.faherty@maine.edu or by phone (207) 753-6545. If you have questions about disability access or need to request disability accommodations (e.g. sign language interpreters, materials in electronic format, etc.), please contact Anna. Requests should be made as soon as possible to allow sufficient time for the accommodation process.