Harlow 2.0: Debut show at Harlow Gallery's new location
Date: September 23, 2017 - November 4, 2017
Location: Harlow Gallery, Hallowell
---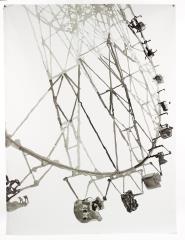 Kennebec Valley Art Association and Harlow Gallery present "Harlow 2.0", the debut art exhibition at their new location at 100 Water Street, in downtown Hallowell. The public is invited to come see the new location filled with work by local artists, representing a range of genres and media. "Harlow 2.0" is on view September 23 through November 4, 2017. Hours are Thursday through Saturday noon-6pm.
Participating artists include Karen & Ru Allen, Nancy Keenan Barron, Megan Daigle, Whitney Gill, Judy Herman, Pamela Hetherly, Nancy Holland, Eddie Leaman, Kay Morris, Anita Morrissey, Linda Murray, Petrea Noyes, Peter Precourt, Judy Schuppien, Sally Wagley, and more.
The Harlow Gallery, located at 160 Water Street will remain open into the spring of 2018. The current exhibition is POW!, an art exhibition of original comics as well as artwork inspired by comics, which on view September 8 through October 21, 2017. Gallery hours at 160 Water Street are Wednesday-Saturday 12-6pm.
For more information please visit harlowgallery.org or call 207-622-3813.
The Harlow Gallery located in downtown historic Hallowell is home to the Kennebec Valley Art Association, a membership based 501(c)3 nonprofit dedicated to connecting and celebrating art, artists and community in central Maine since 1963. Exhibitions are always free and open to the public.