Interactive, Zoom Performance - Online
Date: April 22, 2021 - September 30, 2021
Location: Online Event, Maine
---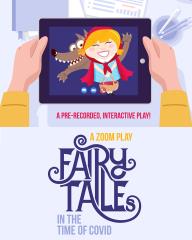 Our favorite characters from the land of stories, including Red Riding Hood, the Three Little Pigs, and Billy Goats Gruff try to navigate and survive the world of Zoom and Covid.
Includes Teacher Guide with in-classroom activities that will have students creating and performing! This 40-minute play consists of three short vignettes with two 5-minute breaks that offer students the opportunity to design their own costumes and sets. It includes a Teacher Guide that includes what to expect as well as all the materials needed to get students designing and creating.
Perfect for the end-of-the-year activities and schools looking to add more art experiences to their curriculum.
Run time: 40 minutes
Needs: Access to the internet.