Karen Chutsky Naud Exhibits at Richard Boyd Art Gallery
Date: February 5, 2021 - February 28, 2021 (Sunday, Friday, Saturday)
Time: 10:00 AM - 03:00 PM
Location: Richard Boyd Art Gallery, Portland
---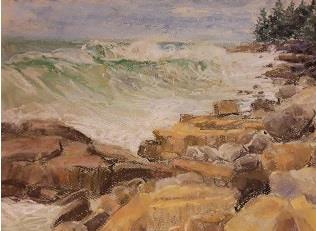 (Portland, ME) Richard Boyd Art Gallery welcomes Karen Chutsky Naud to the group of artists represented by the gallery in Southern Maine. A noted commercial and fine artist living in Boothbay, Maine she launched her career at the age of 6 when she began creating murals on the walls of her family's home in New Jersey.
Karen studied Fine Art at Pennsylvania State University and the famed Arts Student League of New York City. While in New York City she "fell in love with designing fabrics" and studied textile design at the Fashion Institute of Technology winning several awards including the Gold Medal Award – Achievement in Textile Design and the Milliken Award to name a few.
In her twenties she focused on creating textile designs, graphics, and showing her watercolor paintings in galleries. It was during this time that she opened her own Home Furnishing Fabric company with a line of silkscreened fabrics made in a factory in Ramsey, New Jersey and sold at her retail outlet store in Paramus, New Jersey called Kallena Designs. "It was so exciting to see yards and yards of my colorful designs running down twenty five foot print tables."
Karen later moved to Los Angeles, CA to train for animation, film storyboarding, and set design with Disney Animators. This led to a career in animation, film storyboarding and period set design. While in CA, she authored and illustrated children books, wrote reviews for online book review sites, and a movie review column for a local newspaper.
Karen lived on the west coast until 2018 when she returned to Boothbay, Maine and opened Sandpiper Art Gallery. Throughout her commercial career Karen continued to create and exhibit her watercolor paintings.
"Now chalk pastel is my favorite medium because it is quick and energetic, shows off an artist's strong drawing hand and the lovely palette of colors are all laid out before you to pick and choose, to sketch- smear and rub with your fingers rather than a brush. I'm always amazed at how just a few strokes can create so much life on a piece of paper. The best perk of being an artist - having the mindset of being creative with life as well as art. It all feels like a big adventure, a movie in the making."
Stop in the gallery to see several of Karen's pastels on exhibit in A Group Exhibit of Visual Art opening February 5th at 10:00 a.m. The exhibit is open free of charge between the hours of 10:00 a.m. and 5:00 p.m. every Friday, Saturday, and Sunday through February 28th, 2021.
For more information about the exhibit contact the gallery by phone (207)-712-1097, email info@richardboydartgallery.com or visit the gallery's website www.richardboydartgallery.com . For exhibit updates like us on Facebook www.facebook.com/RichardBoydArtGallery and follow us on Instagram http://www.instagram.com/richardboydartgallery9327 .