Karin Spitfire Premier of The Seven Sacred Sites/Sights: Books 5, 6 & 7: The Voice & the Head Glands
Date: May 6, 2023 - May 28, 2023 (Sunday, Friday, Saturday)
Time: 01:00 PM - 06:00 PM
Location: Unitarian Universalist Sanctuary , Belfast
---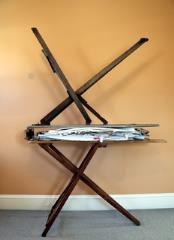 "The Voice and the Head Glands," an art installation of three moveable sculptures—larger-than-life books—exploring the concepts of metaphysical and embodied space created by Karin Spitfire, will open May 5 at the Unitarian Universalist Sanctuary on Miller St. Belfast, Maine, from 4:00 p.m. to 8:00 p.m. and run until Sunday May 27.
The sculptures are: Press On, a book built with ironing boards; ...Now Lie in It, made with WWII army cots; and The Order of the Universe, a 20-foot pop-up accordion book contained by nine-foot-tall Victorian shutters. They tackle ideas such as the mechanisms of expression, the interplay between the vast macrocosm and the infinitesimal microcosm, and the "space beyond the veils." They are conceptually influenced by the endocrine glands; the fifth, sixth and seventh chakras; and women's traditional work and arts.
The installation/books will be open to the public for viewing in the sanctuary every Friday, Saturday, and Sunday from 1:00–6:00 p.m. through the month of May (except May 7). Since the sculptures are books, they are built to be opened and closed and read. To that end, several specific scheduled readings will be held during the month: at the opening, Friday May 5, at 6:00 p.m., Saturdays May 13 and 27 at 1:30 p.m., and every subsequent Friday and Sunday of May, starting on May 11, also at 1:30. During the rest of the exhibition, the books will be displayed in their open format, with a video of a reading of Press On available to play.
The exhibit is funded in part by a grant from the Maine Arts Commission. The photos of diatoms in ...Now Lie in It were provided courtesy of the Bigelow Laboratory for Ocean Sciences in Boothbay.

World Premier of The Seven Sacred Sites/Sights:
Books 5, 6 & 7: The Voice & the Head Glands

Friday, May 5,
Premier Opening
of The Voice & the Head Glands

4pm–8pm Viewing open to Public

6pm Opening and Reading of the Books
Saturday, May 6
1pm–6pm Viewing open to Public
Friday, May 12
1pm–6pm Viewing open to Public
1:30 Opening and Reading of the Books
Saturday, May 13
1pm–6pm Viewing open to Public
1:30 Opening and Reading of the Books, followed by embodiment session
Sunday, May 14
1pm–6pm Viewing open to Public
1:30 Opening and Reading of the Books
Friday, May 19
1pm–6pm Viewing open to Public
1:30 Opening and Reading of the Books
Saturday, May 20
1pm–6pm Viewing open to Public
Sunday, May 21
1pm–6pm Viewing open to Public
1:30 Opening and Reading of the Books
Friday, May 26
1pm–6pm Viewing open to Public
1:30 Opening and Reading of the Books
Saturday, May 27
1pm–6pm Viewing open to Public
1:30 Opening and Reading of the Books, followed by embodiment session
Sunday, May 28
1pm–6pm Viewing open to Public
1:30 Opening and Reading of the Books
Filter Events
Venue
Unitarian Universalist Sanctuary
37 Miller St
Belfast
ME
04915
Organization
Karin Spitfire
Karin Spitfire
207 930 5652
ten.iwg@tipsK