Luke Concannon
Date: October 13, 2023
Time: 07:00 PM - 08:30 PM
Location: Denmark Arts Center, Denmark
---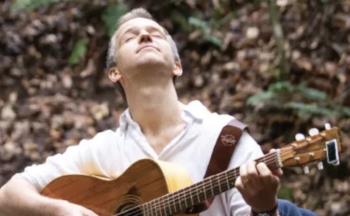 Luke Concannon performs and evening of original music you won't want to miss. Click here for a sneak peak listening experience. Luke Concannon has early memories of falling asleep at Irish family parties to the sound of guitars, singing, and dancing. Luke is a folk singer songwriter with exquisite harmonies. The super star Ed Sheeran, who's last tour broke all records says, "Luke is one of my 3 main hero's along with Van Morisson."
Renowned for his magnetic live performances and 'direct-from-the-heart' songs, #1 UK chart artist Luke Concannon has something special. Performing with his wife, the classically trained singer Stephanie Hollenberg, the duo present an evening of musical passion and audience participation that will surely become one of those gigs that live long in the memory.
"His humanizing songs, way of drawing in the whole room and activist love are so needed in our world today" Alastair McIntosh, writer, academic & activist.
"Concannon dazzles …. folk music with a little extra something." Dancing about Architecture
Luke now resides on Abenaki land in Vermont with his wife Stephanie, wonderful neighbors, and fifteen chickens.
Filter Events
Venue
Denmark Arts Center
50 W Main Street
Denmark
ME
04022
Susan Beane
(207) 452-2412
gro.strakramned@ofni