Maine Outdoor Film Festival: The Kennebec Program
Date: July 29, 2021
Time: 07:30 PM - 10:00 PM
Location: Eastern Promenade, Portland
---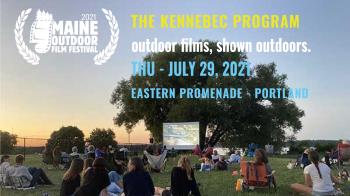 Join MOFF and screening presenter L.L. Bean for a night of outdoor films, shown outdoors under the stars at the Eastern Promenade. Bring your own camp chair and/or blanket. Outside food and beverages are welcome, and there are many food trucks parked nearby. Doors open at 6:30 and films begin at 8pm. Unfortunately no pets allowed, per city park rules. These in-person screenings will follow the letter and the spirit of prevailing safety guidelines, including crowd limits, social distancing and face mask recommendations. This screening features the following films, listed in order they will play (schedule subject to change!):
BLIND FAITH - 25.66 minutes - by Graeme Meiklejohn - from BC
Short synopsis: Mac Marcoux is one of Canada's most decorated para-athletes. Now, after a year sidelined by injury and skiing with a new, unproven guide, he will attempt to redefine himself as a skier by taking his racing pedigree into Whistler Blackcomb's extreme alpine terrain. His goal is to do more than just ski lines that are impressive for a blind person, Mac wants to change the way people see adaptive athletes.
THE LIGHT OF LUBEC - 3.2 minutes - by Roger McCord - from Maine
Short synopsis: A pictorial essay on a landmark known as "America's first light" – the West Quoddy Head lighthouse in Lubec, Maine.
24 LEECHES - 10 minutes - by Aaron Peterson - from MI
Short synopsis: Though filmmaker Aaron Peterson's 10-year-old son died in 2019, the boy lived an adventure-filled and wise life. In 24 LEECHES, that same boy narrates a family canoe adventure to the Slate Islands of Ontario, Canada while making reflections on the world around them. This film serves tribute to Aaron's best friend and adventure partner.
RUNNING THROUGH BARRIERS - 6 minutes - by Julia Ngeow - from Maine
Short synopsis: A documentary short that features the Vermont-based ultra-runner, author, and social-justice advocate, Mirna Valerio, which explores the interrelation between environmentalism and racial justice.
THE GILDED TRAP - 17.1 minutes - by Ashley Siana - from Maine
Short synopsis: THE GILDED TRAP profiles Jamien Hallowell, a young Maine lobster fisherman, and Dr. Richard Wahle, a marine biologist studying the changing lobster population within the Gulf of Maine. The film depicts the shallow and sheltered Gulf of Maine as a microcosm of climate change as it is experiencing an array of ecological changes.
INTERMISSION
DISTANT DHARMA - 16 minutes - by Annemarie Hennes - from United States
Short synopsis: In March of 2020, world-class endurance athlete Rebecca Rush set out to ride a fat bike 350 miles across the frozen Alaskan wilderness. The Iditarod Trail Invitational promised the challenge of a lifetime but after an early mistake, Rebecca's race takes on new meaning as she emerges from the trail into a global pandemic.
THE LONG GAME - 5.33 minutes - by Herman Mantis, Inc. - from PORTLAND
Short synopsis: Resiliency takes many forms in this story of overcoming obstacles, finding hope in devastation and transforming adversity into positive action. Nature is powerful, healing, humbling and a vital human right. Follow Ryan Dunfee on his journey to recovery through the power of the Maine wilderness and the lessons learned along the way.
JEFF LABREE | MAINE GUIDE - 1.5 minutes - by Lone Spruce Creative - from Maine - Short synopsis: What it means to be a registered guide in the North Maine Woods
THE FUNNY RUNNER - 20 minutes - by Rob Steger - from CO
Short synopsis: After quitting her job to pursue her dream of running professionally, Brittany Charboneau quickly found herself not having any fun with the sport she loved. Was there really only one path to success in becoming a professional runner or could Brittany throw away everything and do things her own way?