Maine Outdoor Film Festival: The Penobscot Program
Date: July 30, 2021
Time: 07:30 PM - 10:00 PM
Location: Eastern Promenade, Portland
---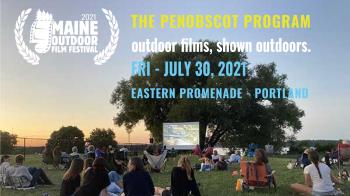 Join MOFF and screening presenter Baxter Brewing Co for a night of outdoor films, shown outdoors under the stars at the Eastern Promenade. Bring your own camp chair and/or blanket. Outside food and beverages are welcome, and there are many food trucks parked nearby. Doors open at 6:30 and films begin at 8pm. Unfortunately no pets allowed, per city park rules. These in-person screenings will follow the letter and the spirit of prevailing safety guidelines, including crowd limits, social distancing and face mask recommendations. This screening features the following films, listed in order they will play (schedule subject to change!):
BORN FROM JUNK - 14.5 minutes - by Mike Horn, Galin Foley - from CO
Short synopsis: Born From Junk traces the outlaw roots of mountain biking back to its raw beginnings in Crested Butte, where a crew of unlikely pioneers in pursuit of wild times in the mountains blossomed into a global phenomenon.
HOME OR HIGH WATER - 11.5 minutes - by Dave Weich - from Portland, Oregon
Short synopsis: Battered by stronger, more frequent storms, residents are faced with an impossible decision: rebuild their home, or abandon their property and find a way to start again somewhere else. This film brings the conversation about the climate crisis into the practical reality of people's lives. How are communities at risk adapting to these ever-progressing challenges?
DIRTBAGS - 5.18 minutes - by E.C. Brego - from Maine
Short synopsis: Through her company, Oterra Designs, Erin O'Toole designs and manufactures handmade, one-of-a-kind chalk bags that are tough enough to withstand winter climbing in her home state of Maine.
TO ROW AND LET GO - 27.5 minutes - by Doug Welch - from Maine
Short synopsis: MITA Executive Director Doug Welch started ocean rowing, built a wooden boat, and set out on an island adventure. He packed a video camera throughout, compressing three years into 30 minutes. As he navigates both nature and his own life, Welch presents a rich portrait of the Maine Island Trail and the adventures it inspires.
INTERMISSION
DECISION - 12.33 minutes - by Beau Gaughran - from Maine
Short synopsis: Decision is the story of wild Alaska shorelines, a remote lighthouse and the ongoing problem of marine debris. The film will show you the realities of wilderness beaches choked with plastic debris and the volunteers working to clean them up.
THE SURFBOARD BUILDER - 3.97 minutes - by Juliette Sutherland - from Maine
Short synopsis: Richard Dennis is a surfer and board shaper in York, ME. He waxes poetic in his way about life, learning how to surf, and his journey learning to build surfboards.
MORE THAN A MOUNTAIN - 37.6 minutes - by Maine Mountain Media - from Maine
Short synopsis: A short feature that follows the Saddleback comeback journey and the resort's vision for a vibrant future.