Maine Performing Arts Forum
Date: September 18, 2017
Time: 08:30 AM - 04:30 PM
Location: Frontier, Brunswick
---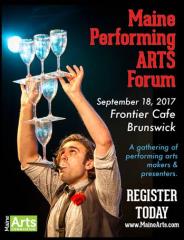 Producers!* Presenters!** The Maine Arts Commission is hosting two sessions targeted for your needs as part of a Performing Arts Forum on September 18 at the newly-renovated Frontier Cafe in Brunswick.
The morning session is for performing arts producers, with an afternoon meeting for performing arts presenters. Both meetings include a panel discussion followed by sector-specific breakout conversations.
* Producers = People who make theatrical, dance, and/or musical works
** Presenters = People who exhibit touring theatrical, dance, and/or musical works
You can SIGN UP for either of these session or for the full day. Tickets are $10 per session or $25 for the full day which includes an amazing Frontier Cafe lunch.
****If you're a performing arts maker or presenter, your input is invaluable to the day's success. Help to plan the day's discussion topics by
Schedule
8:30 Doors open
9:00 Welcome Introductions for the Producer Forum
9:15 Producer panel discussion
10:30 Transition to breakouts
10:45 Breakout conversation 1
11:15 Breakout conversation 2
11:45 Morning forum ends/ Transition to lunch
12:00 Lunch
1:00 Welcome Introductions for the Presenters Forum
1:15 Presenter panel discussion
2:30 Transition to breakouts
2:45 Breakout conversation 1
3:15 Breakout conversation 2
3:45 Wrap up
4:30 Doors close