Maine Veterans Art Appreciation Ceremony
Date: January 18, 2018
Time: 01:00 PM - 03:00 PM
Location: Maine State House, Augusta
---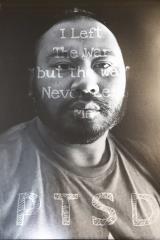 MAINE VETERANS MATTER
You Are Cordially Invited to the Veterans Art Appreciation Ceremony
January 18, 2018 in the Hall of Flags.
Join us in celebrating veteran artists of Maine who are participating in the current Art In the Capitol Show at the Maine State House. Speakers will discuss the significance of Maine's service members and how the arts have played a key role in veteran recovery programs. Veteran artists will be individually recognized for their work. We hope you will come to view their artistic pursuits and honor their achievements.
What:
Veterans Art Appreciation Ceremony
Where:
Hall of Flags – State House
When: Jan 18th, 2018 1-3p.m.
Who:
Speakers will include:
First Lady Ann LePage
Julie Richard, Executive Director, Maine Arts Commission
Dan Ducker, Associate Director, VA Maine Healthcare System