Maine Women in the Arts Prelude Fine Art Show with Crafts
Date: Recurring Daily Starting December 5, 2019
Time: 05:00 PM - 07:00 PM
Location: Masonic Hall, Kennebunkport
---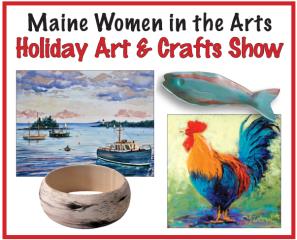 Dec. 5-8. Maine Women in the Arts Prelude Fine Art Show with Crafts:
Original artwork and unique crafts by Maine artists.
Show hours: Thursday, December 5, 5-7 pm; Friday, December 6, 10 am-7 pm; Saturday, December 7, 9:30 am-6 pm; Sunday, December 8, 10 am-4 pm. Opening reception with live music and refreshments: Thursday, December 6, 5-7 pm. Raffle basket. Free admission.
Masonic Lodge, 10 North Street, Kennebunkport. At the end of Temple St., around the corner from the Kennebunkport PO. FMI: www.mainewomenarts.com.